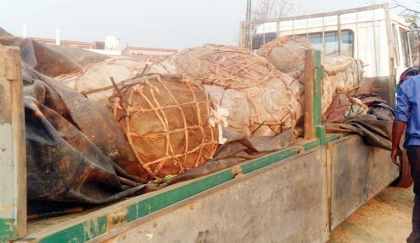 THE Zambia Wildlife Authority (ZAWA) on the Copperbelt Province has seized over 30 bundles of assorted  game meat weighing about 3,900 kilogrammes from a truck that was abandoned in Kamirenda Extension in Luanshya.
Copperbelt police commissioner Joyce Kasosa and ZAWA regional warden Sydney Tembo have confirmed the seizure, which happened on Thursday around 08:30 hours.
Mr Tembo said the meat was recovered from a Fuso light truck registration number ABG 1603, which was being driven by an unidentified person.
It was seized by police in Luanshya and officers from the Zambia Combined Cadet Force (ZCCF).
"We have seized an assortment of game meat weighing about 3,900 kilogrammes from a light truck that was abandoned in Kamirenda area in Luanshya. This is Government trophy and so we have taken steps in dealing with the matter," Mr Tembo said.
He could, however, not state the value of the game meat but said it comprised both protected animals (high in terms of status) and other kinds of game.
Mr Tembo said it appeared the suspects did not have proper documentation for the contraband and abandoned it after realising they would be questioned at police checkpoints.
He said the truck was spotted by members of the public who became suspicious after noticing it had been parked in one place for a long time. They alerted the police, who drove the truck to Luanshya Police Station.
"We also suspect that the vehicle could have developed a mechanical fault as the suspects were transporting the meat because our officers had a tough time in driving it from Luanshya to our offices in Kalulushi," he explained.
He applauded members of the public for alerting the police. He said Government is losing a lot of revenue through such activities.
And Ms Kasosa said police have not yet made any arrests as the suspects are believed to have run away, but that investigations have been instituted.
The contraband was handed over to the courts in Kalulushi for disposal.
The World Health Organisation recently announced that the deadly Ebola virus can be spread through consumption of game meat, loosely referred to as bush meat. Government has since embarked on sensitisation programmes on the Ebola virus disease.