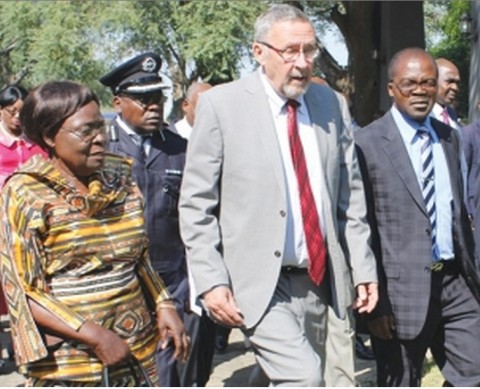 UPND President HAKAINDE HICHILEMA says there is concrete evidence that the people causing violence in MANGANGO are PF cadres who were allegedly transported from Lusaka by the party's campaign manager OBVIOUS MWALITETA.
But Vice President Guy Scott has said Mr Hichilema is the one causing violence in Mangango.
However Mr. HICHILEMA has told ZNBC news that the Zambia Police Service have been given information about the violent activities of the PF but have NOT acted.
The UPND leader has since refuted claims that his party is causing violence in MANGANGO.
Mr. HICHILEM says claims by Vice President GUY SCOTT that he is causing the violence that has characterized the MANGANGO by elections are baseless and only aimed at tarnishing his name and the UPND.
He says the PF is the one causing confusions by allegedly using police to block the UPND campaign meetings.
The UPND says the action by the PF is an act of frustration because they know that they will lose the election.
But Dr Scott says the UPND has allegedly feried 15 dangerous thugs into MANGANGO to intimidate people from voting. veep
The Vice President has told a media briefing in Kaoma that the PF will however not be intimidated by the UPND's style of campaign
And PF Campain Manager OBVIOUS MWALITETA says the party has opened 10 dockets of assault against the UPND.
And Pf chairperson INONGE WINA feared voter apathy as a result of the violence.
But UPND Deputy Spokesperson CORNELIUS MWALITETA has dismissed claims by the PF.
Mr MWEETWA says the PF is trying to discredit Mr HICHILEMA so that they can reclaim their declining political fortunes.
He said UPND is against all forms of political violence which only serves to derail democracy.
Meanwhile, ZNBC's JOSEPH NYIRENDA reports that ballot papers for the August 19, MANGANGO parliamentary by election have arrived in KAOMA and political parties have since verified them.
ZNBC