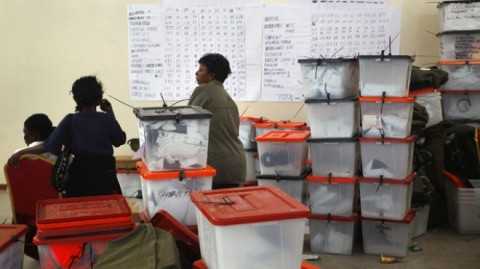 LOSING Patriotic Front (PF) candidate in the 2011 Zambezi West parliamentary election, Christabel Ngimbu, has asked the Lusaka High Court to halt the September 11, 2014 by-elections in Zambezi
West.
This follows her appeal to the Supreme Court against the High Court's decision to refuse to enforce its judgment to render a report to the effect that former United Party for National Development (UPND) Zambezi West member of Parliament (MP) Charles Kakoma was corrupt and, as such, should not be allowed to re-contest any election for the period of five years.
Ms Ngimbu said in her memorandum of appeal filed by her lawyers Ellis and Company in the Supreme Court yesterday that she was dissatisfied with Ms Justice Mulongoti's decision on Monday, hence her appeal against the judgment.
She said Ms Justice Mulongoti erred when she refused to enforce the Supreme Court judgment of October 13, 2013 that nullified Mr Kakoma's election on grounds that he engaged in corrupt and illegal practices during the 2011 elections.
Ms Ngimbu said the High Court misdirected itself when it held that the Supreme Court judgment was binding on the High Court but ruled that it would proceed to prepare a report based solely on its findings in the High Court.
Ms Justice Mulongoti had in her petition judgment declared Mr Kakoma the duly elected MP for Zambezi West, having found him free of electoral malpractices but the Supreme Court nullified his seat on grounds that it was illegal for him to make donations in his constituency.
But in her appeal to the Supreme Court yesterday, Ms Ngimbu stated that the court also erred in law and fact when it refused that she would not name the person found guilty of having committed illegal and corrupt practices in her report because she did not make such findings in the High Court, forgetting that an appeal in itself was a rehearing on the record and that judgment of the Supreme Court was binding on the High Court.
Meanwhile, Ms Ngimbu has, through her lawyer Bonaventure Mutale, asked the Lusaka High Court to stay the by-election in Zambezi West pending determination of her appeal in the Supreme Court.
Ms Ngimbu said this in an affidavit in support of an ex-parte summons for an order to stay the polls, with nominations and elections for Zambezi West scheduled for August 21 and September 11, 2014,
respectively.
She said that the election could be halted seeing the Electoral Commission of Zambia (ECZ) had not yet printed the ballot papers.
On Monday, Ms Justice Mulongoti refused to render a report citing Mr Kakoma as being corrupt on grounds that her court did not find him as such.
This was after Ms Ngimbu had asked her to prepare a report so that Mr Kakoma could not be allowed to re-contest his seat on grounds that he was guilty of corrupt and illegal practices in the 2011 elections
because the Supreme Court which nullified his seat found him guilty of corruption.
Times of Zambia