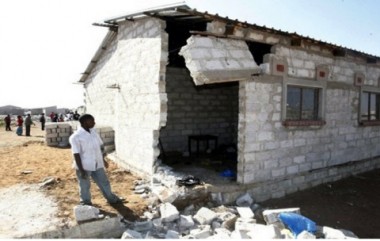 MORE than 150 illegal structures have been demolished in Kalukanya Township in Mufulira as they were constructed in an unplanned area.
Mufulira Municipal Council (MMC) public relations manager Melvin Mukela said a combined team of council officers and State police swung into action in the early hours of yesterday demolishing the houses under construction.
Mr Mukela said the houses were at foundation, slab and window levels and were being built on plots allegedly acquired illegally..
He said the council would not allow illegality and that more than 150 structures were earmarked for demolition.
"The demolition exercise was conducted from 01:00 hours to 06:00 hours today (yesterday). The structures were demolished because they were acquired from unknown people and constructed in an unplanned area," said Mr Mukela.
Mr Mukela warned residents against acquiring land in unplanned areas because it would be difficult for the council to provide services to such areas.
He urged members of the public to follow the right procedure when acquiring land and avoid being swindled by unscrupulous people.
Mr Mukela said the demolition exercise would continue until all the illegal structures were razed down.
Times of Zambia
'By MAYA NTANDA