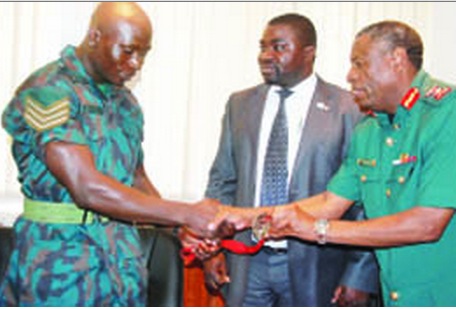 ZAMBIA National Service (ZNS) commandant, Nathan Mulenga has advised 2014 Commonwealth Games bronze medallist, Boas Munyonga not to be complacent after his achievement in Scotland.
Speaking during the presentation of the medal at ZNS headquarters in Lusaka, Lieutenant-General Mulenga said the service and nation were proud of Munyonga's achievement at such a big event.
"We are greatly humbled as a service that the person with a medal comes from ZNS. This achievement shouldn't get to your head. People will praise you but never lose focus and discipline or you will wane off. The nation still wants to get the best out of your talent. We are confident that you will bring glory to the nation in another event," he said.
He commended the Zambia Judo Association (ZJA) team for imparting discipline and shaping Munyonga, a sergeant in ZNS, into an international star performer.
Munyonga expressed happiness with the recognition he got from ZNS said his focus now was to bring home a medal from the Rio de Janeiro 2016 Olympic Games.
ZJA president, Alfred Foloko saluted ZNS for the support rendered to the association, saying it had been difficult to run the judo affairs without help.
He appealed to the ZNS command to consider recruiting more judokas especially those with black belts in the service.
Foloko also said ZJA technical director Francis Linosi and Obby Chisanga from the Zambia Army have been accredited as referees by the African Judo Union.
He said having the duo at the continental level would be an advantage for Zambia after several years of crying foul about unfair officiating at major international events.
This weekend, ZJA will stage a national judo tournament in Mongu, which will also act as the last preparatory event for Zambian judokas, including Munyonga before they head to the World Judo Championships in Russia.
Times of Zambia