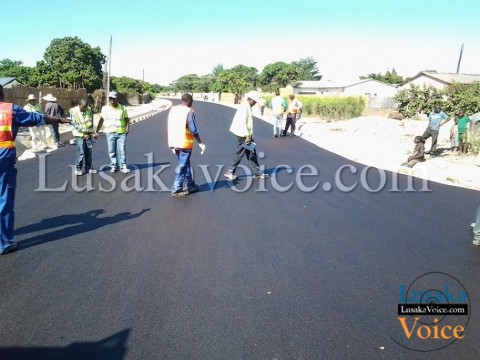 GOMES Haulage and Construction are this week expected to resume road construction works in Mushili Township in Ndola. the firm has promised to complete the project within two months.
Company managing director Leroy Gomes said in Ndola yesterday that his firm has already signed contracts with the Road Development Agency (RDA) to tar Kasama, Mindolo and Madzimoyo roads.
"We are just finishing off some works in Chipulukusu, we should start working on the roads in Mushili next week [this week]," Mr Gomes said.
"It will take us a month and half or two months to do the drainage and standard tar," he said.
This was when Bwana Mkubwa member of Parliament (MP) Emmanuel Chenda, who is minister of Local Government and Housing, toured some roads in Mushili which are in his constituency.
Among the roads Mr Chenda toured was Chirundu road, which he admitted was in a deplorable state and needed urgent attention from Government and pledged to address the matter with RDA.
Chirundu road is not among the roads the contractor will start working on when construction works begin this week.
Mushili resident Judith Mafuta said Chirundu road is over-flooded during the rainy season with water flowing into houses and called for urgent need to work on the road.
Another resident, Martha Mbewe, said there were leakages on the Kafubu Water and Sewerage Company (KWSC) pipes which also need to be worked on.
"We experience so much floods in the rainy season and water pipes have leakages, there is need to improve on this," she said.
And Mr Chenda admitted the cries by Mushili residents to upgrade Chirundu road as genuine and he assured the residents that he would inform the relevant authorities on their concerns.
"There is urgent need for attention on the Chirundu road as the calls from the residents are true. This has to be done and done urgently. I will try to engage the treasury and RDA to see how best it can be done," he said.
"For the first time, we are going to have tarred roads in Mushili," Mr Chenda said.
"We are on track and working on the programmes. Water was a problem but not anymore. Now the challenge is the pipes that are bursting, we will work on that."
He also said that there is need for Mushili Clinic to be operating long hours because of the high population in the catchment area.
Zambia Daily Mail