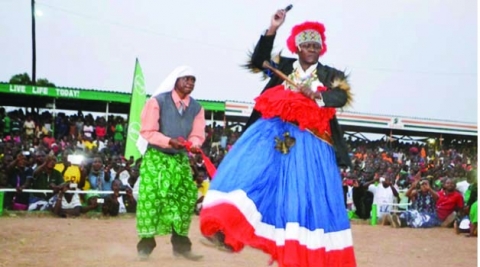 GOVERNMENT has said it is happy that this year's Mutomboko ceremony has attracted investors and showcased Luapula Province's natural resources.
Mines, Energy and Water Development Minister Christopher Yaluma who represented Government at the ceremony in Mwansabombwe District yesterday, said the Patrotic Front Government respected traditional ceremonies as evidenced by the attendance of ministers at every traditional ceremony in Zambia.
Mr Yaluma said the establishment of Chiefs and Traditional Affairs ministries was further testimony of Government's appreciation of cultural heritage.
"The Patriotic Front Government of President Michael Sata attaches great importance to traditional affairs as can be evidenced by the attendance of Government officials at every ceremony," he said.
Mr Yaluma called on all traditional leaders in Zambia to support the Government as they were partners in development.
Mwansabombwe came to a standstill as people from all parts of the country converged in the area to witness this year's colourful Mutomboko Ceremony, which reached the climax when Mwata Kazembe of the Lunda people rose from the throne to perform a dance of conquest in the main arena.
Earlier, various traditional performances from around the Kazembe kingdom and other tribes, including the Ngoni impi were on hand to entertain hundreds of people who thronged Kazembe Village, the capital of the Lunda people.
Mwata Kazembe said through a representative that his chiefdom was grateful for Government's support and development through roads, houses and upgrading of the Airport in the province.
He said the huge presence of Government's senior officials who included Cabinet ministers, permanent secretaries and district commissioners at the ceremony, signified how much value Government placed on the ceremony and culture as a whole.
"This is as it should be because I remember in 1980 when first Republican president Kenneth Kaunda visited the palace and my father was on the throne, then he said 'a nation without culture is as good as dead' and indeed a tribe without culture is not a tribe at all," he said.
Opposition leaders like Nevers Mumba and Dan Pule where among the many people who attended the ceremony.
Preceding the Mutomboko-dance at the main arena was the morning session where Mwata Kazembe paid homage to the ancestral spirits at the Miyombo trees before proceeding in a procession to Ng'ona River and later offer sacrifices at the river's shrine.
Paramount Chief Mpezeni of the Ngoni people of Eastern was among the many traditional leaders that travelled to witness the ceremony.
Other notable dignitaries present where Transport, Communications, Works and Supply Minister Yamfwa Mukanga, Luapula Province Minister Benson Kapaya and his Permanent Secretary Chanda Kasolo, and Lusaka Mayor Mulenga Sata.
Article & Picture By MOFFAT CHAZINGWA
Times of Zambia