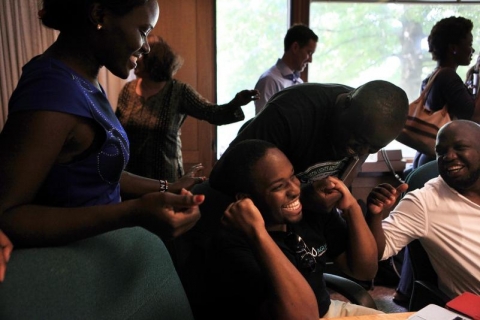 Hanover — Before Ituze Colombe came to the United States from Rwanda, she imagined teeming, impersonal cities, not the close-knit communities of the Upper Valley — a difference that challenged her ideas about social responsibility.
"Back in Africa, people will think the aid will come from outside or from the government," Colombe said.
But in the Upper Valley, "it's coming from people right here," she said, referencing as an example Listen Community Services, the Lebanon nonprofit that runs a food pantry and multiple thrift stores, among many other initiatives.
Colombe is one of 25 Africans under the age of 35 being hosted this summer by Dartmouth College as part of President Obama's Young African Leaders Initiative, a development program that placed 500 fellows in universities across the country.
The Dartmouth program is geared toward social entrepreneurs, people who use business concepts to help their communities with a new idea or product.
From June 14 to July 26, the fellows — fashion designers, engineers, activists and social workers, among many professions — studied business and leadership at Dartmouth, where professors coached them on their ongoing projects and helped them to develop new ones.
Colombe, who has her own fashion label , INCO-icyusa, produces her line in cooperation with Centre César, a nonprofit that manages a co-op sewing workshop.
After touring area businesses with the Young African Leaders Initiative, Colombe may have found a new collaborator.
Joan Ecker, who owns the Fat Hat Clothing Company in Quechee, is considering shipping some of Colombe's wares from Rwanda to New York City, where she hopes to display them in her Midtown showroom.
Fifteen local families, including Ecker's, initially hosted the fellows, who Ecker said exceeded all expectations.
"The program is unbelievable. It literally makes you stand still in your tracks to see young people from countries in Africa with such incredible insight, in not only their dream business, but also their sense of responsibility, socially," Ecker said. "They were spectacular. Every single one of them."
Ecker was particularly impressed with the fellows who shared her trade. The young woman she hosted, Patrice Juah, of Liberia, had skills that outmatched her own. Once, when a button on Juah's clothing came loose, she sewed the thread — which couldn't have been more than an eighth of an inch long — back up with just her fingers.
If the Young African Leaders Initiative comes to Dartmouth again next year, Ecker said she'd like to be even more closely involved.
"Hook me up," she said.
Halfway through their last day of classes on Wednesday, the Africans spoke to their experience with the program over lunch at the Tuck School of Business.
"I'm not going to lie; it's been crazy," Mhlanganisi Madlongolwana, of South Africa, said.
Madlongolwana runs an incubator, Speak Afrika, that takes African startups from the design stage to the prototype. His project now has the support of Gregg Fairbrothers, founder of the Dartmouth Entrepreneurial Network, Madlongolwana said.
Among many productive practices gleaned from the whirlwind, six-week program, Madlongolwana has also picked up the habit of working over lunch.
"My mother's probably going to slap me when I get home," he said, laughing.
Sitting next to him was Mshila Sio, of Kenya, whose blue polo shirt bore the name of his project: Agua, Inc.
Agua focuses on water purification, a critical issue in Africa. Many parts of the continent lack safe, usable water sources, Sio said, including his hometown, where in October authorities declared the principal river unfit for human consumption. A local company had been dumping its waste into the river, he said. To solve problems like these, Sio's organization is working on a chemical-free filtration process that's usable anywhere.
Akiules Neto, of Angola, held the most impressive degree — a doctorate in nuclear physics from Delft University of Technology in the Netherlands — but was the only fellow who came to the program without a definite project, he said.
"Compared to what they're doing (the rest of the fellows), I'm peanuts, I'm nothing," Neto said.
His tablemates, listening close by, teased him for his modesty. Recently, Neto, who used to work for Halliburton, received about $2 million in total from a raft of oil companies, including Chevron, Maersk, B.P. and some local and national companies, to invest in socially conscious projects through Angola's Ministry of Petroleum.
Neto is thinking of calling his group "Tomorrow's Generation." He hopes to fund some of his colleagues' projects, including Sio's water filtration systems and a women's mentorship program headed by Regina Agyare, of Ghana.
Featured on numerous American news outlets, Agyare's project, Soronko Solutions, teaches computer programming to more than 400 women, with the goal of making them economically independent.
During their classes at Tuck and at the Thayer School of Engineering, the fellows dreamed up new ideas to add to the ones they came with.
Under Fairbrothers' supervision, Neto and two colleagues created "iSeeCow," a company that plans to sell reflective bands for cattle. In southern Africa, where grazing cows roam freely across the roads, thousands of motorists die each year from colliding with the animals at night.
The solution, the fellows decided, was to wrap a mirrored belt around the cows' stomachs. Late in the design phase, the iSeeCow team realized they could also use the bands to advertise, Neto said at lunch on Wednesday.
At that, Madlongolwana scoffed.
"You pull over, you see a cow, you say, 'Hey, let me take down that number' ?" he said, miming a steering wheel and a cell phone.
Patiently, Neto brought his laptop over to Madlongolwana to explain. They pored over the business plan together.
"Here you go, my brother. What do you want to know?" Neto said.
"Now you can 'see cow,' " he said, punning on the concept name.
Later, in their last regular class, a leadership seminar put on by the Nelson A. Rockefeller Center, the fellows presented a series of group skits on leadership, summing up the lessons of the month-long program. One group riffed on the introspection in Hamlet's oft-quoted soliloquy.
"To be or not to be," one fellow began.
"To lead or not lead," another said.
Above all, they concluded, great leaders are self-aware.
More than once, the visiting Africans reminded each other how fortunate they were and how much they owed to their respective communities.
"I was born in a very lucky environment and I still remember that Fairbrothers said, 'Entrepreneurship is just luck,' " Neto said.
Fairbrothers, who recently lost his positions at Tuck and the Dartmouth Entrepreneurial Network, gave the fellows a chance to pitch their projects to potential investors, Neto said.
"His (Fairbrothers') classes are amazing. We've had almost two weeks and from nothing we made great presentations," Neto said. "We came up with products and pitches out of nowhere."
Fairbrothers had taken him aside one day to explain why he was leaving, Neto said, though he didn't feel comfortable relaying what he had heard.
"It's a pity," Neto said of the adjunct professor's departure.
From time to time during the seminar, the room erupted in raucous, completely unrelated celebration, as one by one the fellows received news via email that they had won $25,000 grants for their projects from the U.S. African Development Foundation, a federal agency created by an act of Congress.
Of 36 grant winners nationwide, nine were Dartmouth fellows, according to Amy Newcomb, of Dartmouth's Dickey Center for International Understanding.
Lucy Athieno, of Uganda, is one. Her project produces menstrual pads for women, who in her country usually stay home from school for several days each month because the products already on the market are too expensive.
Those five days or so that women avoid school often cost them their independence, Athieno said.
"A man will come and say, 'Hey, here's $2,' and they go with him," she said.
Her pads, which are washable and affordable, are already in the hands of 200 girls, Athieno said. Now, she hopes to expand her production.
"The great news is that with the $25,000 grant I got, that is going to work," she said.
On Saturday, the fellows will fly to Washington, D.C., for the final session of the 2014 program, which will include presentations by President Obama and first lady Michelle Obama, Secretary of State John Kerry and U.S. Ambassador to the United Nations Samantha Power, Newcomb said.
Dartmouth hopes to host another batch of fellows next year, provided it matches the $100,000 in funding provided by the federal government, Newcomb said. In the meantime, Dartmouth students who met the fellows this summer may have the chance to contribute to their projects.
"I wouldn't be surprised if, come winter, we have a handful of students out in the field," Newcomb said.
Rockefeller Center Deputy Director Sadhana Hall, who helped to organize the leadership seminar, said the fellows had been easy to work with — "driven," "thoughtful" and "grateful," she called them.
"When I see all of them, I have hope for Africa," she said.
Rob Wolfe can be reached at [email protected] or 603-727-3242.
SOURCE : http://www.vnews.com/home/12891640-95/innovators-for-a-continent