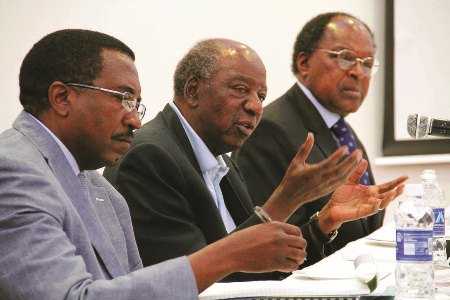 By YANDE SYAMPEYO
THE Bank of Zambia (BoZ) has attributed the recent rise in interest rates by financial lending institutions to high borrowing by Government, which has been necessitated by the strong infrastructure investment.
BoZ governor Michael Gondwe said the rise, which is in the short term, is also due to tightening of the monetary policy.
"Notwithstanding the positive response in the foreign exchange market and the beneficial impact, we anticipate this will have inflationary pressures over the medium term.
"One of the consequences of the tightening of monetary policy has been a sharp rise in the interbank interest rates.
"In this regard, with the stability we are now seeing, BoZ has begun to ease liquidity conditions by providing liquidity to the banking system through open market operations," he said in a statement in Lusaka yesterday.
Government's investment in infrastructure development is critical to economic growth as it triggers employment and reduction of poverty and inequality.
"We are confident that as we anchor stability in terms of low inflation and stability in the foreign exchange market, we will see lending conditions return to less stressful levels, which support growth and macroeconomic stability," Dr Gondwe said.
The central bank is mindful of the importance of ensuring that the macroeconomic stability that has been achieved of high growth, single-digit inflation, strengthening external sector and financial system stability is maintained.
Dr Gondwe said the bank will continue to support efforts of the financial sector to extend the provision of financial services to the private sector, particularly small-scale enterprises, so that they are able to make a meaningful contribution to economic growth.
He said the economy remains fundamentally sound, adding that the measures the central bank has undertaken to restore stability in the financial sector are temporary and will be scaled back when it gets more evident that the threats to higher inflation have receded.
"This will be done in a measured way to ensure that we do not see a return to instability in the financial markets that we witnessed earlier in the year," Dr Gondwe said.
He said the monetary policy committee will be meeting early next month to assess the threats to inflation.
Dr Gondwe said the committee will also review a wider set of factors not only including developments in the money and foreign exchange markets, but also developments in the broader economy.
He said the decision of the committee will be communicated to the public as is now customary under the new monetary policy framework.
Zambia Daily Mail