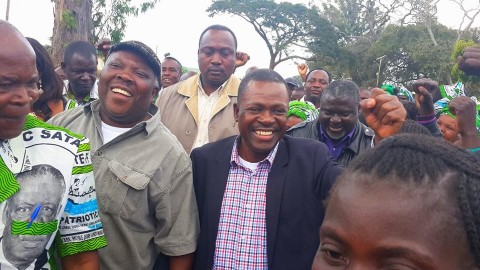 Government has been advised to always consult traditional leaders as custodians of traditional land because they have been an integral part of the governance system of this country since time immemorial.
UPND Vice President Richard Kapita has told QFM News in a statement that the recent direct directive by Justice Minister Wynter Kabimba to District Commissioners to get customary land for
development without the consent of traditional leaders was misplaced.
Mr. Kapita says Mr. Kabimba should not be reminded what the law says about land considering that he is a lawyer and he understands these matters more.
Mr. Kapita explains the legal procedure of getting customary land by the state requires that consultative meetings which involve the Chief and his or her subjects, provincial administration and the councils among other stakeholders should be held.
He furthermore explains that then an Application Order should first be signed by the concerned Chief giving consent, then the respective Council and Provincial Administration and finally the Republican President.
He says it is after this and many other processes are done that the President can sign a Statutory Instrument to facilitate physical planning and township boundaries in an area that was under customary custody.
The UPND Vice President states that his party appreciates Mr. Kabimba's instruction that since new districts were created, there is literally no development to talk about such as in Shibuyunji District where the District Commissioner works from either a private home or from his vehicle.
Mr. Kapita says local authorities are responsible for township planning and boundaries, and not District Commissioners.
Mr. Kapita adds that it is of this background that the recent directive by Mr. Kabimba to Shibuyunji District Commissioner Fanwell Mweemba, the for the newly created Shibuyunji District that he did not need the consent of the chief to get land for constructing of district offices should be condemned.
qfm news