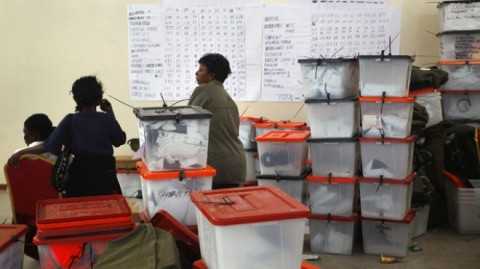 The Supreme Court has dismissed five motions which sought to bar five former Members of Parliament from re-contesting their seats after their elections were nullified for engaging in electoral malpractices.
The five former MPs are Lucky Mulusa for Solwezi Central,Victoria Kalima for Kasenengwa,Sydney Chisenga for Mkushi north,Charles Kakoma for Zambezi West and Eustarkio Kazonga for Vubwi.
But in delivering Judgment today, the full bench of the Court comprising Justices Marvin Mwanamwambwa, Muyinda Wanki, Hildah Chibomba, Evans Hamaundu, Gregory Phiri, Elizabeth Muyovwe and Florence Lengalenga, ruled that the motions to disqualify the the former parliamentarians were misconceived and had no merit.
Judge Phiri who read the first Judgment on the motion brought by Christabel Ngimbu against Mr Kakoma and the Electoral Commission of Zambia (ECZ) as first and second respective respondents, said the court's decision was in line with Section 25 of the Supreme Court Act which does not allow the hearing of a matter which has been already heard and determined.
Judge Phiri said it was in the court's considered view that if the said motion was allowed in the format it was made, in the circumstances of the case where the Court had dealt with the appeal that was before it by delivery its final judgment on the 10th October 2013, the court would be opening doors to running litigations contrary to section 25 of the Supreme Court of Zambia Act.
He further said that the Court has also dismissed the motion as it did not seek to correct clerical errors and accidental slips or omission of the Court's Judgment of 10th October, 2013, but sought to execute and enforce the Judgment by virtue of Section 9 of the Supreme Court of Zambia Act.
Judge Phiri however says the appellant can pursue the enforcement of the Court's Judgment in the High Court which has unlimited jurisdiction if they so wished.
All parties will bear their own costs.
qfm news