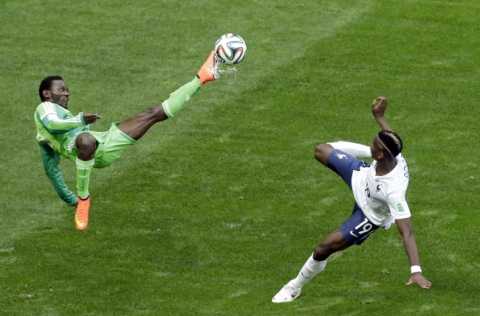 ALGERIA and Nigeria's exit at the pre-quarter-final stage of the 2014 World Cup taking place in Brazil has cast a dark cloud over Africa.
The departure of the two teams on Monday night has effectively ended Africa's interest in the global soccer competition.
Algeria lost 1-2 to Germany while Nigeria went down 0-2 to France.
While it will be a tournament to remember with two countries making the cut to the knock-out stage, it is one to forget because of the reputation some of the teams have left.
The first one was the bonus issue which was so prominent before and during the tournament.
Cameroon players were almost boycotting the World Cup as the players refused to board the plane until bonus issues were sorted out with their government.
As if that was not enough, Ghana and Nigeria joined the chorus for the bonuses during the World Cup.
The Ghanaian government was forced to charter a plane to ferry US$3 million to pay players appearance fees.
Nigeria's Super Eagles joined the fray. The Super Eagles played the knockout match on Monday against France under the cloud of a dispute over bonus payments.
As if that was not enough, indiscipline also resurfaced its ugly head in the Cameroon and Ghanaian camps.
Alex Song, the Barcelona midfielder, elbowed his opponent and attracted a red card which cost his team in the match against Croatia.
In the same match, two Cameroonian players were seen almost getting to blows. Why?
The Black Stars expelled Sulley Muntari and Kevin-Prince Boateng for indiscipline.
What message is Africa sending to the world?
We, as Africa, have told FIFA that being the world's second largest and second most populous continent, we deserve more slots.
Currently, Africa, whose population is the youngest among all the continents – 50 percent of Africans are 19 years old or younger – just has five slots.
Africa has been lobbying FIFA to increase the slots but stories of threatening to boycott matches during the World Cup and in-fighting within teams do not augur well for our advocacy.
It deepens stereotypes about us as being the dark continent.
BONUS
These issues ought to be discussed between governments, players and football federations well before even players go into camp.
Where governments and soccer federations do not have capacity to pay, they can always agree and ask for help from FIFA so that the incentive for qualifying is made available before the teams depart.
The first and paramount issue should be to agree, then the FAs liaise with governments and FIFA.
It does not bode well for internal matters to be in public domain at critical times thereby diverting people's attention.
I am aware that when the President of Greece decided to increase the players' perks, they in unison declined and instead requested the presidency to build a training centre for the national team. That was magnanimity on the players maybe our players can learn from that.
As for indiscipline, it is deeply regrettable.
For a continent begging for attention, ours should be to showcase our talents so that our skills and behaviour on and off the pitch speaks for itself.
Then the whole world will agree that Africa, at about 30.2 million km² including adjacent islands, which covers six percent of the Earth's total surface area and 20.4 percent of the total land area and with 1.1 billion people as of 2013, accounting for about 15 percent of the world's human population, should have more slots.
Maybe, it is the reason the Chipolopolo, for all our players' discipline and skill, should be at that stage to show the world the real Africa.
[email protected]