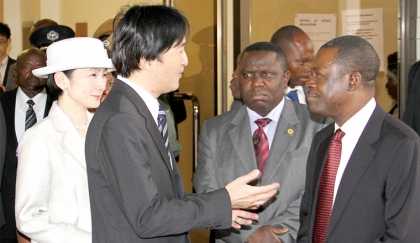 ACTING President Wynter Kabimba says Zambia cherishes its diplomatic ties with Japan because that country has been instrumental in Zambia's development agenda.
"We hold dearly our diplomatic relationship because Japan has contributed a lot to the development of this country," Mr Kabimba said in Lusaka yesterday when Prince Akishino and his wife Princess Kiko of Japan paid a courtesy call on him.
Mr Kabimba was flanked by Patriotic Front (PF) deputy secretary general Bridget Atanga, ministers of Foreign Affairs Harry Kalaba and Chiefs and Traditional Affairs Nkandu Luo.
Mr Kabimba said Zambia hopes to reach the development levels which Japan has attained.
"On behalf of our President His Excellency Michael Chilufya Sata, I would like to welcome you to Zambia and to say you are welcome," he said.
Mr Kabimba said Zambia's cities are growing at a fast pace outstripping its infrastructure and Japan's assistance is helping contain the situation.
Mr Kabimba, who is PF secretary general and Minister of Justice, cited the fifth Tokyo International Conference on African Development (TICAD-V) which saw Japan commit 3.2 trillion yen to African countries including Zambia.
"The PF has prioritised education, health, agriculture and local government in that order and Japan, through TICAD-V and Japan International Cooperation Agency (JICA), has immensely contributed assistance to us," he said.
Mr Kabimba said Japan has been instrumental in extending assistance to Zambia, citing the Samora Machel School of Veterinary Medicine at the University of Zambia as an example.
He said the planned Kazungula bridge is another example of Japan's assistance to Zambia.
"We are deeply grateful to Japan for the warm bilateral relations that exist between our countries. JICA has been active in this country," Mr Kabimba said.
He encouraged the royal couple to market Zambia's tourism, including the Victoria Falls.
And Prince Akishino hopes the visit to Zambia will strengthen the two countries' relations further.
"Our two countries' relations date back to 1964 before I was born. And this is also your jubilee year of independence," he said.
Prince Akishino said he is enjoying the stay in the country and enjoyed seeing the Victoria Falls in Livingstone.
The Prince and Princess later laid wreaths at the Freedom Statute.
 Zambia Daily Mail