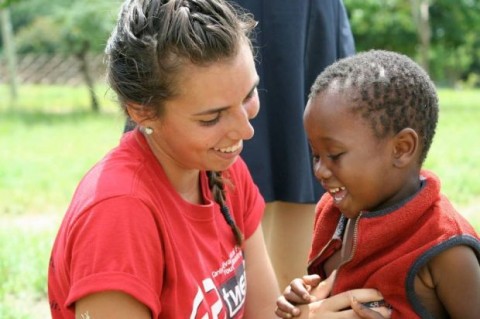 Pennsylvania, USA –  As Kayla Contreras was walking with her group down a street in southeastern Africa, a man tried to buy her from one of the men she was with.
Instead of being afraid that she would end up in a human trafficking ring, the 19-year-old was mad. She was mad that she was overlooked as if she were not human, mad that it's so easy for women to be purchased, and mad that no one was stopping the men from trying to buy any of the many women that were sold on the street around her.
"You hear about it on the news and things, but it's more real when you're walking through the streets, through towns and seeing girls younger than me being bought and being sold and being abused — it just blew my mind," Contreras said. "It made me mad. … We weren't in a position to intervene, so we had to be sensitive to seeing things that we can't change and we had to be OK with that."
The Carlisle resident recently returned from an eye-opening, three-month mission trip where she spent one month each in Malawi, Zambia and Mozambique.
The trip was through Adventures in Missions, an interdenominational organization that emphasizes prayer and relationships in its work amongst the poor, the website said. The organization is based in Atlanta.
When Contreras finished her first semester at Albright College in Reading, she was sure that it wasn't the place for her and struggled with what to do next. After some soul searching and talking to friends, she was skeptical about going on a missions trip abroad, but decided to go for it.
"I just didn't feel content with where I was," Contreras said. "(I wanted) more and I found that, so I was like, 'All right, this sounds good.' I prayed about it and felt like this was a clear, 'Yes, you need to go.'"
By the end of January, she was in the bush in Africa setting up a tent, walking miles to get water every day, taking bucket showers and cooking all of her food over open flame. Her group didn't stay in a hotel or get food delivered to them — they lived the same way as the people they were trying to help.
The staples of their diet were rice and beans, and there weren't a lot of options if that wasn't what she wanted to eat. Sometimes Contreras didn't even know if she was going to eat lunch, because that's how the people in the village lived.
"You really can't fully prepare for something like that until you're there and you're like, 'I'm in a tent, in Africa,'" she said. "You didn't always know when you were going to eat next. They wanted us to really gain the whole experience of 'this is how they live' and 'this is what you're going to do.' Realizing that it's totally different when you say (you're hungry or) 'Oh I'm starving,' because you're not."
Letting go of all of the amenities Contreras has become used to as an American was one of the many challenges of taking a trip like this. She said Africa isn't a place where everything is available at the tip of people's fingers.
Not having things like running water or a toilet — the basics Americans take for granted each day — for three months changed how Contreras views her life and everything around her here.
"The hardest thing was getting out of my mindset of having everything now," she said. "Everything is literally at my fingertips in America, everybody is used to having things right then and there. Not having that ability to check Facebook every five minutes, I was thinking 'What am I going to do with my life? I'm not going to be able to talk to anyone.' And it was so good, because now that I'm back, I'll go out to dinner with my friends, and I'm like, 'Can you guys put your phones away? I'm right here, talk to me.'"
While in each of the three countries, Contreras and her group ran a program a lot like vacation Bible school, played games with the local children, taught people about the Gospel and went door-to-door to share some messages from the Bible. She said because it was a mostly Muslim area, they had to learn a lot about respecting people's beliefs and local cultures, such as not showing their knees.
The people were wary of their door-to-door campaign, because they wanted to know what her group wanted. Contreras said she thinks that the most important part about the message they were trying to bring to the people of all three countries was about being loved by God. She said if people don't get the love they need from a parent or family member, they will seek it elsewhere, and that getting that love from God is one way to supplement that need.
While there were a lot of times where something could have happened to either herself or the group, she said they had no safety issues and they had a great time. If there was one thing Contreras could share with the world after her eye-opening experience, she said it's to encourage people to think of more than just their own immediate bubbles.
"My biggest thing in having the opportunity to have people read about my experience isn't to promote, 'Hey, look what I did' or 'check out all these cool pictures,'" she said. "It's like, 'Hey, open your eyes to not be so much on yourself.' Don't focus on yourself. We're blinded, we're focused on the now instead of everything. Having this opportunity has really changed how I do everything."