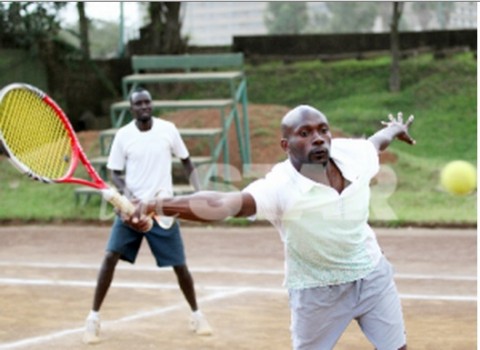 Junior prodigy Ismael Changawa powered the semi-finals of the Real Insurance Kenya Open Tennis Championships after beating the 2012 champion Edgar Kazembe from Zambia in straight.
The feat saw Changawa, who is ranked 70 in World ITF junior ranking, set up a final date with defending champion Duncan Mugabe from Uganda.
Changawa, who turned 18 on Thursday, is the first Kenyan to reach the final since 2010 when Francis Rogoi lost to Mugabe in the final 7-5, 6-7, 6-2.
Kazembe, who lost in the semi-finals last year, won the 2012 title beating Mugabe in the final.
Interestingly, end of today could perhaps see two members of one family being crowned both men and women's champions. This is after Ismael's elder sister Shufaa also eased through to the women's final. Shufaa taught fast-rising junior sensation Stephanie Mbaya some tennis lessons, pipping her in straight sets of 6-3, 6-1 in women's semis. Shufaa is up against defending champion Caroline Oduor in a re-match of last year's women final that serves off at 10.30am.
The men's final will serve off at 1pm. Ismael and Kazembe subjected the crowd to some scintillating display as they broke each others serves. However, its Changawa, who contained the Zambian strong serves with good rallies to win most of the points.
"I knew what to do with his strong serves as I placed my shots inside. My coach Lawrence Karanja and mentor Faizal Khan encouraged me from the touch-line to focus and it worked," said Changawa.
"He could have brought his experience but I have played many Futures matches hence was ready for the challenge. Changawa said he would work to push Mugabe to the back court since the Ugandan likes to spin. Mugabe, who once again silenced Rwandese Jean Claude Gasigwa 6-2, 6-3, warned Changawa that he will have to produce something special magic to beat him.
"I should expect a tough match but Changawa will have to produce something unique to get the title from me," Mugabe said. "However, I am happy to see youngsters like Changawa coming up strongly and people should come out in numbers to support him. He is a great prospect for Kenya."
Ismael is looking for his maiden win while Mugabe is eying his fourth Kenya Open victory after previous wins in 2010, 2011 and 2013. Shufaa is eying her second Kenya Open victory against Oduor, who beat her last year for her third Open success after previous wins in 2009 and 2012. Oduor dispatched seven-time champion Evelyn Otula 6-3, 6-2 in the other semi.
"I have to take this one this time around. I know her game is slow hence I will have to be patient and at the same time aggressive," Changawa said. "I will mix up my systems. I will sleep over it and see what kind of a game plan I will come up with," said Oduor.
– See more at: http://www.the-star.co.ke/news/article-172340/kenyans-advance#sthash.mEpkBkSm.dpuf