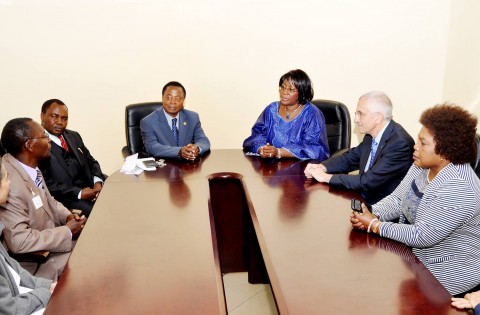 Neurological disorders cause substantial disability and creates a heavy burden on individuals families, communities and societies allover the world, First Lady Dr Christine Kaseba has said.
During the official opening of the 6th Regional Course in Sub -Saharan Africa at the University Teaching Hospital in Lusaka on June 19,2014, Dr Kaseba said neurological disorders were a major public health concern affecting hundreds of millions of people.
" More than 50 million people have epilepsy orldwide. Approximetry 6.2 million die because of stroke every year and more than 80 percent of these deaths take place in low and middle income countries where services and resources are scarce, " Dr Kaseba said .
And Epilepsy Association of Zambia president Anthony Zimba says Zambia has a lot of neurological problems.
Zimba said this In an interview during the stroke, ageing and cognitive impairment workshop at the University Teaching Hospital Paediatric Centre of Excellence in Lusaka, Zimba said Zambia did not have enough neurologists.
He said epilepsy surpassed all neurological conditions in the country.
"The workshop we are starting today is a workshop on stroke. We are trying to train young doctors and other health workers like clinical officers in identifying patients with neurological problems including epilepsy," Zimba said. "In this country, we have a lot of neurological problems and epilepsy actually surpasses all other neurological conditions in Zambia. Therefore, we need to have people who are qualified to handle these cases."
Zimba said Zambia had only two neurologists, adding that the other one that the country had died.
He said the unfortunate part was that the few neurologists that the country had, including the three expatriates were based at UTH.
Zimba said it was clear that the country did not have sufficient manpower to handle neurological problems.
"This is just a starting point that we should be able to stimulate our young doctors to take up neurology as their career because many young doctors venture in other things like public health, paediatric, and other things," Zimba said. "With the partners who have come, we have got 14 professors who are going to help us train during the workshop and we also have 26 young doctors who are training in neurology in their respective countries. So we brought these 26 young doctors just to showcase that even the young doctors here can take up neurology as their career."
Asked what prevented most young doctors from training in neurology, Zimba said "Neurology is not a very simple subject. It is quite a difficult subject. After one has gone through seven years, they don't want to go for another four years to become a neurologist. They want to take up very short courses like public health which takes only two years."
Zimba said the other reason why most young doctors did not train in neurology was the lack of sensitisation on the importance of the course.
"…because we see a lot of neurological problems in our practice and we should be able to stimulate someone to study neurology and become useful to the country," said Zimba.