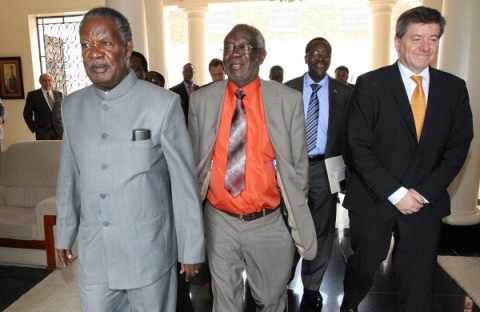 GOVERNMENT has not yet established a new minimum wage but negotiating for the harmonisation of salaries, Minister of Labour and Social Security Fackson Shamenda has said.
Speaking at a meeting for Zambia Federation of Employers and the Zambia Congress of Trade Unions, Mr Shamenda said Government would not set a new minimum wage but instead come up with a collective agreement that harmonised salaries.
He said Government would not allow signing of collective agreements that had poor conditions of service if particular companies had the potential to pay its workers better.
He said poor conditions of service might trigger the Ministry to amend labour laws through parliamentary approval following a debate.
"Government has been too accommodating and will not sign any collective agreement that will not provide for decent pay for our workers. Some Bank tellers get K1 500 while Government maids get K3000, would I be unreasonable to question them to justify that?" he said.
He said he was currently holding four collective agreements that had unreasonable conditions of service and warned employers to pay their employees well if they could afford to.
Mr Shamenda said some companies investing in the country performed well in generation of income as they made large chunks of money yet still paid low salaries.
He said industrial relations needed coordination to enhance productivity, emphasising that jobs could only be protected through productivity.
He said the minimum wage a person could rely on needed to consider the current cost of transport, accommodation and food basket among other things.
ZCTU president Leonard Hikaumba said the country needed to reach a stage where it could not debate the minimum wage and called for unity and dialogue in order to have a good working relationship.
ZFE president Tyson Chisambo expressed concern over continuous negotiations regarding the minimum wage for unionised employees.
Meanwhile, commenting on the Times Printpak salary arrears, the minister assured that Government was looking into the matter to meet challenges faced by the company.
Mr Shamenda said Government was looking at the genesis of the issue to try and establish what caused the current status of the company.
"This has nothing to do with the institution but management, Times of Zambia employees should be treated like others. We are all concerned, as Government we will be the last people to let you down," he said.
He said the previous administration had not given the parastatal necessary support and described the situation as unacceptable.
He called for negotiations to be done in good faith as opposed to issuing threats, saying dialogue and communication were the solutions.
Times of Zambia