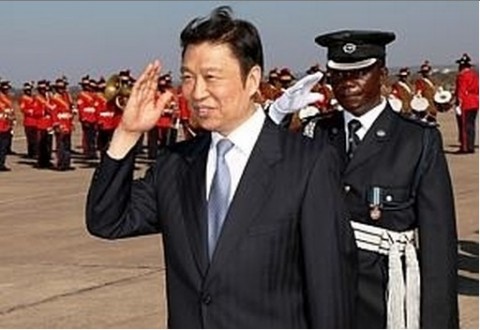 CHINESE Vice-President Li Yuanchao yesterday visited the $94 million Heroes National Stadium in Lusakaa with a call on Zambians to guard the ultra modern facility jealously.
Li observed that building such a gigantic infrastructure was not an easy task and thus the need for the Shanghai Construction company team not to return to China until it was satisfied that Zambians could take care of the stadium on their own.
"We hope that the project is a project of great safety and quality and we also hope that the project is a corrupt free project. It is by no means an easy task to build such as stadium so I would like to salute my respects to all the people who have designed and participated in the construction of the stadium.
"At the same time, I think the building of the stadium is just the beginning, we have to ensure that it is managed well and it is used well so the life of the stadium has just begun. I think the Shanghai construction team will not go until we are assured that our Zambian brothers can take care of the stadium," he said.
Li said managing the stadium well was equivalent to building it and that it was necessary that the Chinese nationals trained their Zambian counterparts to properly manage the infrastructure.
He said it was meaningful to have named the stadium in honour of the former Zambian heroes adding that it would provide an opportunity for the citizenry to participate in sports and get joy from that.
Li, however, wondered why there is just one big screen television one side instead of also having another on the opposite side.
Kambwili thanked the Chinese Government making it possible for Zambia to construct the two modern stadia using concessional loans from that country.
"This is a clear illustration of a well nurtured friendship that has existed between Zambia and China since Independence and let me take this opportunity to you and the nation that our 50th Independence celebration which is a Golden Jubilee will be held at this facility.
Kambwili, however, asked for technical assistance to enable Zambia maintain an infrastructure of such magnitude through skills transfer.
He also said that it was one of the requirements by the FIFA and CAF for the stadia to have overhead cameras if it was to host a tournament like the Africa Cup of Nations, which Zambia was eager to stage in 2019.
The Minister said overhead cameras were excluded during the construction of the Levy Mwanawasa and National Heroes stadia, a plea Li pledged to look into.
Ministry of Transport, Works and Supply architect Musunka Silungwe said construction of the stadium was 100 per cent complete while 50 per cent of the paving works on the car park were done.
Silungwe said the construction of access road to alleviate traffic congestion would start within 10 days.
Times of Zambia