Karl Matchett
,   
One full week into the World Cup and the thrills and excitement of the 2014 finals isn't wearing off in the slightest. In fact, it's shaping up better with every passing game.
Two teams' dreams of glory died, three players received cards that will keep them out of their next fixture and the early match was the crown jewel of the tournament so far.
The goals continue to flow, unexpected challenges spring up for the big-name teams and the groups look very tight moving into the second round of games.
Here are all the winners and losers from Day 7 in Brazil.
Group B is looking extremely tight, as predicted, after Spain were defeated and Australia put up a much better resistance to the Dutch than some had thought they might manage.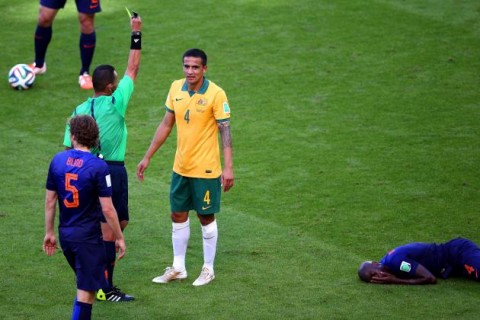 Tim Cahill and Robin van Persie both scored for their teams—but they also both got booked, meaning they'll sit out the final match of the group stage.
For van Persie it's not such a big deal; with six points, Netherlands are all but through and he should return in the knock-outs. But Cahill is almost certainly in his last World Cup and will miss his final game through suspension, having scored twice in two games at Brazil 2014.
Both teams in the first fixture decided to have defensive meltdowns at times, with Ron Vlaar giving away a great chance late in the game, Aussie goalkeeper Mathew Ryan gifting the winning goal to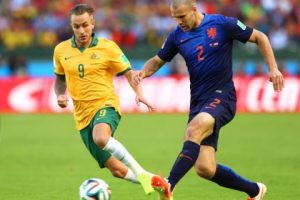 Memphis Depay and a whole host of other errors being seen.
Jason Davidson played the Dutch onside for their second goal, Bruno Martins Indi almost let in the opposition with an underhit back-pass…the list went on.
All told, it made for a very exciting game and the attacking was good at times, but really, the organisation at the back was poor at both ends.
This has been a theme over the entire World Cup, but we've seen it again on Day 7.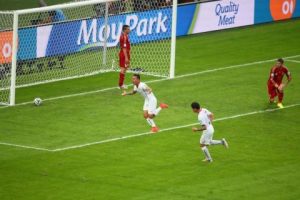 Arjen Robben did it all himself, racing from halfway line to penalty box to score Netherlands' opening goal, while Chile's opener against Spain also came from quick offensive play after winning the ball back.
The faster teams have managed to get the ball from midfield into the final third, overwhelming defences before they have a chance to react, and creating clear chances on goal that way. Contrast that to some of the more methodical, slow build-up play—Spain for example—and how many they've scored at the World Cup.
Maybe not everybody expected Spain to win the World Cup this time around, but nobody expected them to be crashing out at the group stage.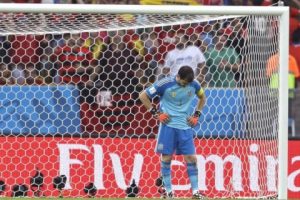 Fact is, Spain are out, eliminated first, after just two matches. Spain's latest failure came in the form of a 2-0 defeat to Chile Wednesday.
They scored just once, from the penalty spot, and looked mentally unable to cope with the impact of losing to the Dutch, even before Chile started to take control. It's the end of an era with Spain's domination over and done with, but the manner, rather than the actuality, of the end is the most difficult thing to comprehend.
Great pressing, great pace in attack, width when required and compact off the ball, a solid team shape which prevented runs behind or dangerous through balls, and a well put-together plan of action overall.
It wasn't the world champions displaying this skill, but Chile.
Jorge Sampaoli had his side prepared to perfection and the team worked together seamlessly to have that plan come to fruition. They were superb and deserved their win, and Sampaoli deserves all the plaudits.
Cameroon proved nothing more than a disorganised, ill-disciplined, unambitious rabble at the World Cup.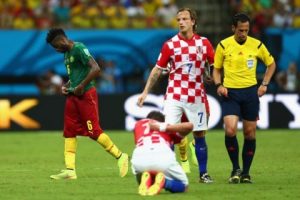 Alex Song's sending off was as calamitous as it was ridiculous, with his team still more or less in the game at that point, though they collapsed entirely afterwards before falling 4-0 to Croatia.
To an extent it was understandable as defeat would send them out regardless—so they might as well try to attack—but the amount of times they let Croatia attack two on one, or three on two, was shambolic.
By the middle of the second half they couldn't even be bothered to pretend they were interested, walking around at the back and making little effort to track back or mark, and the scuffle between team-matesnear full-time was the mouldy cherry on a very bitter cake.
Mexico's draw with Brazil and Croatia's battering of Cameroon means—assuming Brazil beat Cameroon, which they should—that the second knock-out spot from Group A will be decided in the final game between Croatia and Mexico.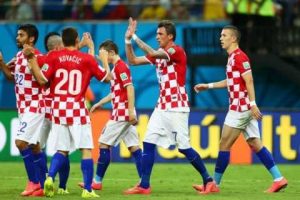 It should prove a great fixture to watch, tactically and technically, with both sides showing speed and invention going forward as well as a willingness to work hard and a real belief that their teams can achieve their objectives in the tournament.
Brazil 2014 has already brought us a number of excellent fixtures but this one could be one of the best, not just because of the teams involved but for what is at stake.