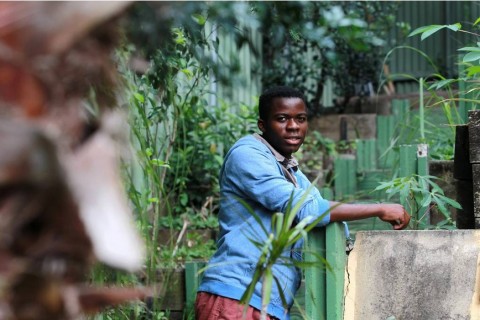 By KATE WALSH
Although Jean Marc Bukasa was nervous about speaking to his classmates about life as a refugee in Zambia, his words had a powerful effect.
After the 17-year-old's speech to his peers, part of the Refugee and Social Justice Day activities at Cedars Christian College on Wednesday, they sought him out for high-fives, fist bumps and some congratulatory words.
Originally from the Democratic Republic of Congo, Jean Marc and his family fled to Zambia when he was seven to escape persecution by the military.
They settled in the country with the help of the United Nations High Commissioner for Refugees, but Jean Marc said life was hard, with he and his brothers never sure when their next meal would be.
"Life wasn't good," he remembers.
"We used to play soccer every single day, it kept us alive. If we were hungry, we just played soccer to waste time and we'd just eat at night."
His family was granted refuge in Australia in 2010, and Jean Marc described his first impression of their new home as "heaven".
Now preparing for his HSC, he plans to become a police officer or join the army once he leaves school, a decision influenced by his own experiences.
"I saw a video of what the army can do, go to East Timor, to Fiji, to help people, protect people, and that's the kind of thing I want to do."
The schools' Refugee and Social Justice Day was part of their Refugee Week celebrations.
Principal Steve Walton said it was important students had an understanding of what life was like for refugees, particularly as the school has 16 students with a refugee background.
The day's activities were organised by the school's social justice group, Micah 6.
"It's the sort of thing you like to see your students passionate about, and teachers love to inspire that drive in students, it's great just to stand back and watch them run with it," Mr Walton said.
Refugee Day festival's musical treat
The World Refugee Day Celebration at Wollongong Town Hall will start at 2pm.
There will be music, performance, food, craft and info stalls.
Performances include the Warrawong Intensive English Centre Music Group, 1 Step Hip Hop dance group, the Diamonds, SCARF Youth Choir, the Wollongong Vietnamese Community, and the wonderful Choir for Change formed for World Refugee Day in Wollongong.
There will also be a fund-raising concert, including the Choir for Change, from 7pm to 9pm at the Thirroul Railway Institute. Tickets cost $20 and proceeds will go to the Asylum Seeker Resource Centre.
On Saturday, a Health Workshop to help prevent STDs will be held at 4pm, at the Coniston Community Centre.
Visit here for more info.