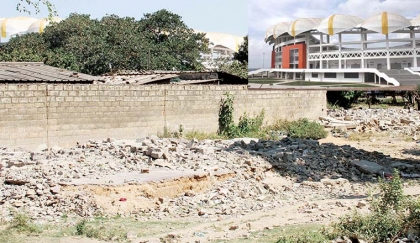 AMONG spin-offs of the construction of Lusaka's National Heroes Stadium is a proposed shopping mall across the road, a development likely to change the face of the sprawling Mandevu township.
A local investor, Fawad Sahely, is buying houses that are located opposite the ultra-modern stadium in Lusaka's Mandevu with a view to setting up a multi-million Kwacha shopping mall.
A check by the Daily Mail yesterday revealed that so far, 10 houses have been bought by Mr Sahely, who is based in Lebanon.
Three of the 10 houses have already been demolished while the others are vacant as the owners have relocated elsewhere after being paid their dues.
Property consultant Chisola Chitungila of Land Catch Consultants, who is managing the project, said they have so far secured about 10 acres of land out of the required 25 acres.
Mr Chitungila said the investor wants to put up the shopping mall by November next year.
"This is happily a mutual transaction. We are negotiating with the owners and we are paying different prices depending on the type of the house," he said.
Mr Chitungila said the site will be modernised to international standards, especially that the stadium will be attracting foreigners.
He said the shopping mall plan has already been submitted to the council for scrutiny and approval.
Mr Chitungila could not give the actual value of the proposed investment.
And Mathews Mumba, who was amongst the first people to sell their houses, said the project will change the face of the area.
Mr Mumba, who has since become the investor's estate agent in the area, said he does not regret selling his property.
"I am an example to people here that this is a genuine project. My house was the first to be demolished and I was paid according to what I asked for and lawyers were present," he said.
Sources said the developer has given a 'golden handshake' to property owners by buying the houses at prices higher than their market value.
They said squalid structures were selling for as high as K250,000.
Zambia Daily Mail