MMD President Nevers Mumba led a team of MMD Members of Parliament and some National Executive Committee members in participating at the 2014 Inter Company Rel
ay held at the Showgrounds in Lusaka.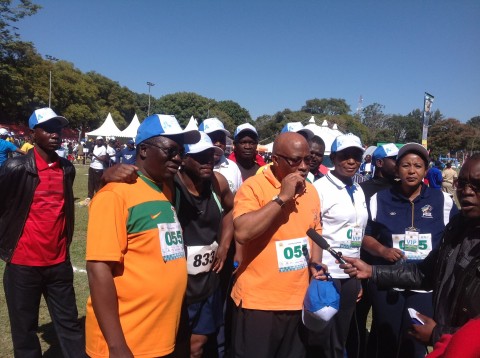 The MMD was the only political party present at the colourful annual event.
Dr Mumba and his team participated in the 10.5 KM relay race and successfully completed the race.
The MMD team featured the likes of Chipangali MP Vincent Mwale, Chipata Central MP Mtolo Phiri, Cheembe MP Mwansa Mbulakulima and NEC members such as Chairperson for Arts and Tourism Elizabeth Chitika, Chairperson for International Relations Ambassador Musenge and some members of the MMD Youth Wing.
The MMD leader completed the 1.2 KM race and handed over the baton to Mr Mwale at the event which attracted 900 participants from 70 organisations and held under the theme: "Act now to stop road accidents, stop child marriages and child abuse."
And in interviews with Journalists, Dr Mumba emphasized the need for Zambia to have a healthy nation.
"Our participation in this year's event is meant to raise awareness on the need to reduce road carnage in this nation. The amount of road accidents that have occurred over the last two years is unacceptable. We need to educate our drivers to be more careful on the road and not to drive under the influence of alcohol," Dr Mumba said.
He added, "We also wanted to use this occasion to have fun as the MMD family and promote the concept of wellness in totality. One cannot achieve anything with poor health and the same could be said about a nation. We need to have a healthy nation with citizens that exercise, eat well and take care of their lives. Zambia needs a healthy leadership to respond to the challenges of managing this nation."
Dr Mumba who mingled and interacted with people from all walks of life also took time to chat with some Government officials present at the event.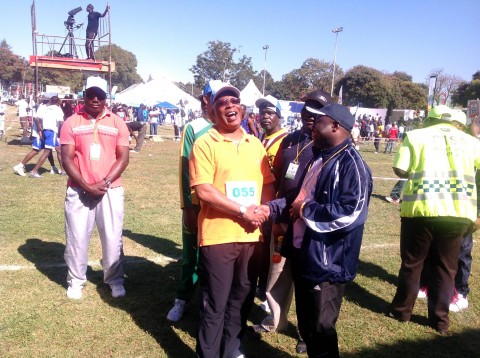 "The concept of a relay is important and politicians should borrow from that in looking at running national affairs. The baton is with President Sata at the moment but he is passing on that baton to the MMD in 2016 and that way, the nation will benefit and develop."
And MMD National Secretary Muhabi Lungu who was flanked by his three daughters said the Inter Company Relay is an important national event.
Mr Lungu said politicians could use events such as the Inter Company Relay to promote national unity and togetherness.
"As the MMD, we decided to come here and participate because health is wealth. You cannot succeed if you are in poor health. I participated last year under the MMD but this time around we decided to come as a team and we are back next year with an even bigger team,' Mr Lungu said.
In her speech, First Lady Dr Christine Kaseba who was Guest of Honour at the event commended Dr Mumba and the MMD for participating.
"To this end, I would like to thank the MMD President Dr Nevers Mumba, is really nice to see Dr Mumba and his entourage here for really showing leadership and coming here and breaking those political barriers because this is what we are living as," Dr Kaseba said.
She continued, "Sport should unite us across political affiliations. So I am really grateful and I hope that even next year we could have more groups coming and competing against each other and all the energy we have at insulting each other, let us use all that energy into running and competing and for me, that way we would have done quite a huge task.
SOURCE : MMDFB