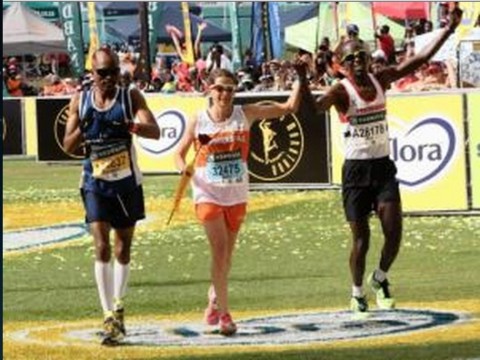 South African running legend Zola Budd has been stripped of her Comrades Marathon age category win – because she did not wear her age category tag.
And Budd has come out firing – saying she had won it "fair and square" and that administrators applying rules inconsistently had plagued her career.
Her manager, Ray de Vries, said on Thursday that the decision was unfair.
The 48-year-old Budd came in at seventh and was the first South African in the female top 10 and the first veteran to cross the line.
She had been issued with an international number which has the age category tag on it. In the international final instructions it stated the age category was on the race number, De Vries said. But the race officials said there was a separate number which had to be sewn on the athlete's vest.
The decision by officials mean she will not receive the R12 000 prize money for being the first female veteran. However, she will still qualify for the R25 000 for overall seventh place and keep her gold medal.
Tina Major of Australia now becomes the winner veterans category 40-49. She finished in 7:12:04 – almost 16 minutes behind Budd (6:55:55).
De Vries believes that Budd was being unfairly treated as the female veterans who were awarded 2nd and 3rd places also only had an age category on their race numbers – exactly the same as Budd.
"The question is why is Zola being singled out? A mistake has been made and it needs to be rectified."
From her home in Myrtle Beach, USA, Budd said on Thursday: "I won it fair and square – my whole athletics career has been plagued by politics and interference from administrators who are selective and do not apply the rules consistently.
"It feels like they are targeting me specifically. Why does this rule apply to me and not to others?"
Comrades Marathon race director, Rowyn James, said he was not aware of the two runners behind Budd doing the same thing.
"That would need to be checked with the KZN Athletics referees."
"She is not disqualified out of the race, she is only excluded from the category prize. If athletes two and three weren't wearing their tags correctly, that is something we will need to investigate."
He said each athlete received a final set of race instructions with their race number.
"The athlete is to wear the age category tags, the cloth tags sewn on to the athlete's vest. That is a rule and requirement of KZN Athletics and Athletics South Africa (ASA)," said James.
This was in line with IAAF rule 141 and ASA rule 11, which stated: "The numerical age category tags must be clearly displayed.
"An athlete will not be eligible for any prize unless they are wearing an age category tag."
This instruction was on top of page two of the final race instructions and information.
"Every athlete over 40 years of age gets their age printed on their race number as well.
"It is not approved by the ASA and KZN Athletics as the only age tag available," said James.
De Vries said that, after she had a picture-perfect Comrades and had huge support from the crowds along the way, she was hugely disappointed.
"When she came into the stadium at the finish, the entire stadium chanted 'ZOLA, ZOLA'. It was wonderful for her.
"Two days later we were informed that she was not awarded the 1st veterans prize because she was not wearing a separate age category tag."
De Vries said Budd had taken advice from well known international road running expert, Norrie Williamson.
His opinion is that the officials are wrong and that Budd needs to have her 1st prize re-instated.
Daily News