JACO MEETS FRIENDS….
The full compliment of the Chipolopolo squad called by coach Patrice Beumelle has now been met after the team arrived in Tampa Florida and met with Jacob Mulenga, who flew straight to America.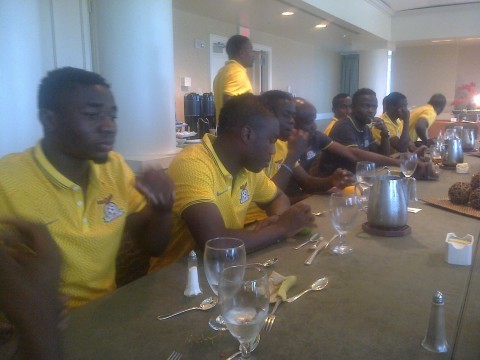 The Chipolopolo have been accommodated at the Grand Hyatt hotel which is located about fifteen minutes drive away from the Raymond James stadium, the venue for the match on Friday. Patrice has called a twenty two man squad to meet Japan who are preparing for the World cup.
The weather in Tampa is similar to Zambia at this time with temperatures around 30 degrees Celsius.
The team will this afternoon have a training session at 17:00 local time.
Patrice allowed the team to take a rest after for three hours after lunch.This was to give the boys time to recover from jet lag, after almost twenty hours of travelling. Having started off from Lusaka yesterday into South Africa,the team had an eight hour flight from Johannesburg to Dakar where the plane stopped over for refueling. From Dakar the team had another eight hours flight into Washington. The last leg of the journey was a two hour flight into Tampa Florida.
Team doctor Mwila Lupasha has presented a clean bill of health of all the players. Morale is very high with all the players looking forward to the game on Friday.
New entrant to the team Adrian Chama is very excited with the prospects of rubbing shoulders with some of the well known players in the Japanese team like Shinji Kagawa and Honda.
The Friday game will kick off at 19:30 local time(about 02:00 01:30 Zambian time). Tampa has a seven 6 hours difference with Zambia.

Football Association of Zambia (FAZ)