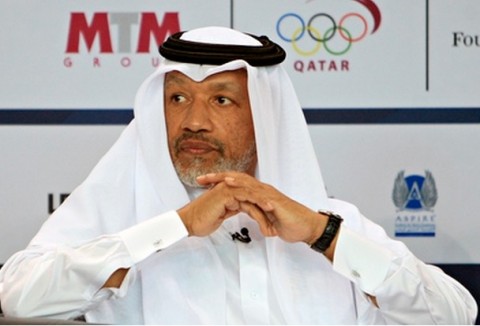 By FELIX MALUNGA –
FOOTBALL Association of Zambia (FAZ) president, Kalusha Bwalya has been named as being among 30 African administrators, who allegedly received illegal payments from disgraced Asian football official, Mohamed Bin Hammam to support the controversial awarding of the FIFA 2022 World Cup to Qatar.
But Kalusha has distanced himself from the allegations as reported by British newspaper, the Sunday Times, saying he does not participate in the voting process for World Cup hosts.
Kalusha said he does not participate in the voting for World Cup hosts as it was only a preserve of the FIFA executive committee members.
"I don't vote for World Cup. It's FIFA executive who vote," Kalusha said in a short-messaging-system (sms) from United States of America yesterday.
However, the Sunday Times claimed Bin Hammam, a Qatari, made payments totalling £3 million to football officials in return for their support for the Qatar bid.
The newspaper claims that Bin Hammam, the former FIFA vice-president, used slush funds from 10 private company accounts to make dozens of payments in return for votes.
The Sunday Times released more than 30 leaked emails out of "hundreds of millions" of documents it says it obtained, some of which point to evidence of alleged "slush funds" that apparently helped Qatar win its World Cup bid.
Some of the other alleged payments made by Bin Hammam were that Kalusha received about £48,000 (about K547,200 at the current exchange rate) for FAZ and personal expenditure.
The paper also claimed £30,000 was paid to 1995 FIFA's World Footballer of the Year, George Weah of Liberia for 'school fees' and £31,500 to Fadoul Houssein, of the Djibouti Football Association, for an 'expensive course of medical treatment for his general secretary' and an all-expenses luxury trip to Saudi Arabia.
Former Gambian Football Association boss, Seedy Kinteh allegedly received £36,000 for a 'car to travel to football and £480,000 to the Ivory Coast Football Association as part of a FIFA development scheme with another £120,000 in cash to 25 delegates flown to Kuala Lumpur
to discuss the bid in 2008.
Sao Tome Football Association president, Manuel Dende asked for £138,000 for 'football pitches' to be paid into his personal account, got £30,000.
In total, the Sunday Times alleged that payments of up to $200,000 into accounts controlled by presidents of 30 African football associations.
There was also an allegation that Bin Hamman channelled more than $1.6m into accounts controlled by Trinidad and Tobago FIFA executive committee member, Jack Warner.
It is also alleged that Confederation of African Football (CAF) president, Issa Hayatou was entertained in Doha, Qatar.
Lavish junkets were allegedly organised across Africa, where Bin Hamman handed out almost $400,000 in cash with the promise of more pay-outs.
In total, around $5 million from "secret slush funds" was paid out by Bin Hammam in "dozens" of payments. The Qatari allegedly invited the leaders of 25 African football associations to Kuala Lumpur "on an all-expenses-paid junket", the Sunday Times reported.
Cash advances worth $200,000 were withdrawn to provide advances to members of CAF, the newspaper said.
According to British Broadcasting Corporation (BBC), the Qatari organising committee for the 2022 World Cup was to meet FIFA investigator Michael Garcia yesterday in Oman.
Senior FIFA figures are for the first time seriously considering the ramifications of ordering a rerun of the vote for the right to stage the 2022 World Cup, in the aftermath of new corruption allegations against the hosts, Qatar.
Times of Zambia