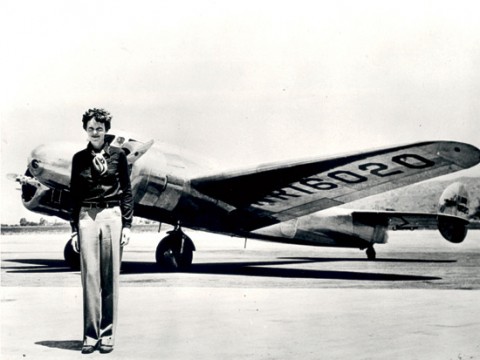 Long before Malaysia Airlines Flight 370 tragically disappeared over the Indian Ocean, pilot Amelia Earhart was at the center of one of aviation's most famed unsolved mysteries.
The first woman to fly nonstop across the US and the Atlantic, and the first person to fly solo across the Pacific, Earhart had even designed a line of clothing for "the woman who lives actively," including a flying suit that was advertised in Vogue with a two-page spread.
On June 1, 1937, Earhart took off from Miami, at what is now Opa-locka Airport, with the goal of flying 29,000 miles around the world. The initial weeks of her voyage went by smoothly as the pilot traveled to South America, Africa, India, and Southeast Asia. But radio contact ceased on July 2, the day Earhart was supposed to land on a nearly invisible airstrip on Howland Island in the mid-Pacific. Despite extensive searching in the area, neither Earhart nor her plane was ever found.
Even before liftoff, Earhart understood the risks of such an arduous journey. "Please know I am quite aware of the hazards," she wrote to her husband, George Putnam. "I want to do it because I want to do it. Women must try to do things as men have tried. When they fail, their failure must be but a challenge to others." Her words ring as true today as they did more than 70 years ago.
PHOTOGRAPHY BY SPL/GETTY IMAGES

Read more at http://oceandrive.com/the-latest/talk-of-the-town/postings/on-this-day-in-miami-history-amelia-earhart-took-her-final-flight#aRT9qKsQ74HOjogE.99