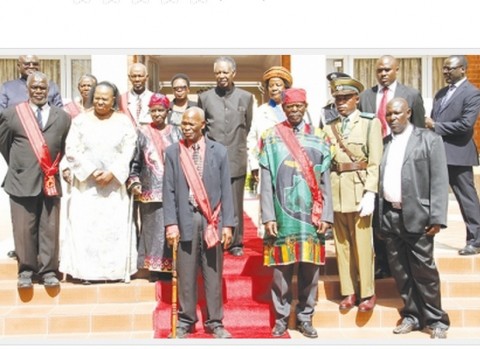 Zambia Disability HIV /AIDS and Human Rights Programme (ZAMDHARP) Programmes Officer Elijah Ngwale has commended Zambians for turning up in numbers at the Heroes stadium to celebrate Africa Freedom Day.
In an interview with ZANIS in Lusaka Mr. Ngwale said the patriotism which was exhibited was a sign of unity for the nation.
Mr. Ngwale said those politicking about this day do not know the meaning of the celebrations as the whole of Africa also celebrates this historical day.
Mr. Ngwale said Africa Freedom Day must rekindle how forefathers fought for the independent of  Africa and Zambia in particular.
He said politicizing the event will not help in any way because this is a historical; event which should be cherished and treasured by all well-meaning Zambians.
He said this day should bring people together despite different political affiliations because the nation is celebrating the de-colonisation from its colonial masters.
Mr. Ngwale said we should also thank God for setting us free from the colonial masters because of the slavery that most Africans were subjected to.
President Michael Sata led the nation in commemorating the Africa Freedom day by pardoning 365 prisoners from various prisons across the country.
Mr. Sata exercised this through the powers vested in him by article 59 of the constitution of Zambia.
The Republican  President later honoured  and awarded 11 Zambians with the  Presidents Medal for Gallantry, the companion order of freedom and the order of distinguished service during the investiture ceremony at statehouse in Lusaka ,.
Among those awarded included Justine Muwana with the Presidents Medal for Gallantry award while Cyprian Mulonda, Roy Chilshe, Paul Jere,  Frank Mulenga, Chief Nkambo, Monica Chitu, Veronica Mumba and Doris Chimanyika were awarded and honoured with a companion order of freedom first division.
Those that were awarded with the order of distinguished  service first division were Gibby Nawa posthumously and Dr. Mutumba Bull.
Later , President Michal Sata this morning led Cabinet Ministers , Diplomats, and high commissioners accredited to Zambia in laying wreaths  at the freedom statue as part of the African Freedom Day celebrations.
The laying of wreaths and the investiture ceremony was later preceded by celebrations which were characterized with different forms of entertainment at the parked new Heroes Stadium.
Among those who attended the celebrations at the Heroes Stadium  include, Defence Minister Edgar Lungu, Community Development Mother and Child Health Minister Emerine Kabanshi, Tourism and Arts Minister Jean Kapata and the Mayor  of the City of Lusaka Mulenga Sata.