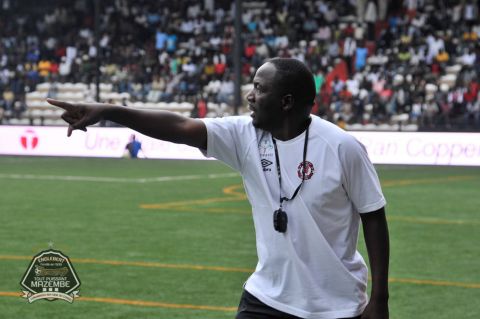 TP Mazembe owner Moses Katumbi has expressed sadness at the death of Nkana coach Masautso Mwale.
"On behalf of my entire team, I wish to extend my condolences to your entire team and of course the family of the illustrious coach. I assure you that TP Mazembe and I will be on your side throughout this moment.
"I hope that our support will bring you comfort in these times where the entire community of African football mourns one of its technicians," Katumbi told the Mazembe website.
Early this year, Mwale led Nkana to a 3-2 victory over Mazembe in Lubumbashi as both teams were preparing for the CAF Champions League fixtures.
Meanwhile, Nkana vice-captain Donashano Malama said Mwale's demise is a loss to the club and the country at large.
Malama said it is going to be difficult for Nkana to forge forward without Mwale.
He, however, said they will try to cope with the situation.
"Even the Bible says that everything that happens, happens for the good of those who love him. There is a reason why things happen in this manner and we just want to thank God for everything," said Malama after the Confederation Cup Group B match against Sewe Sports of Ivory Coast.
Nkana assistant coach Zeddy Saileti said the team was emotionally affected by the death of Mwale as they played Sewe Sports.
Nkana came from behind to draw 1-1 with Sewe at Nkana Stadium in Kitwe.
"It is a very difficult situation…you know the emotions were high but we played, we wanted to honour him and may his soul rest in peace," Saileti said.
"And we should honour God for creating him, he was a good coach. We will miss him, but again we got a result, we got a point, which is good for the team."
Coach Massy, as Mwale was famously called in the football circles, died in a road traffic accident on Friday night along the Kitwe-Ndola dual carriageway as he was driving to join with the rest of the Nkana squad for Saturday's continental club engagement.
On the game, Saileti was happy with the team's display although Nkana spurned some scoring opportunities that could have put the game to rest in the opening half.
And Minister of Youth and Sport Chishimba Kambwili has urged Nkana to win the Confederation Cup as a way of honouring Mwale.
Speaking when he addressed players in the dressing room on Saturday, Kambwili said Nkana has the capacity to win the tournament.
Kambwili, who saluted Malama for his outstanding performance against Sewe Sports, said Government is proud of the team.
"Today's game has been the best gift you have given to your coach. You could see that in the first half, because of the emotions attached to the loss of the coach, you did not come up very well but in the second half you played well, and I want to urge you that the best way to mourn your coach is to go all the way and win the tournament.
"Donashano Malama is a proper Kapambwe 'Gentile' Mulenga boy," Kambwili said in reference to Mulenga, a former Nkana great.
He said the country is behind Nkana as they hoist the flag on the continent.
Nkana chairman John Chiwele thanked Kambwili for the support rendered to the team.
Football Association of Zambia (FAZ) vice-president Boniface Mwamelo said the association is equally saddened by Mwale's death.
"As FAZ, we will support Nkana through this trying moment through and through. One way of supporting Nkana is that on Wednesday they were supposed to play Zanaco in a rescheduled game but we have cancelled that game in solidarity with Nkana as you are aware Mwale was part of the national soccer team set-up. He was just temporarily released to come and take up the Nkana responsibility. We have always considered him as part of the national soccer team set-up," Mwamelo said.
Mwale served as national team assistant coach.
Daily Mail