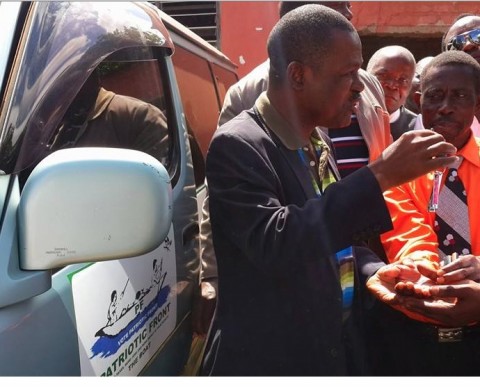 Patriotic Front Secretary General Wynter Kabimba says the ruling party has delinked itself from the decades old practice of ruling parties abusing government money for their operations.
Mr Kabimba says the PF, as a transparent party, uses its own resources from party members to fund its operations as opposed to stealing government resources.
The Justice Minister says upon assuming office in 2011, the PF completely separated its party finances from government so that tax payers money can be channeled to developmental activities to benefit the nation.
Paul Shalala reports from Kasama District that Mr Kabimba said this when he handed over a Regius minibus and a Toyota Hiace minibus to the PF Northern Province Executive for party operations.
Mr Kabimba later challenged the PF Northern Province Executive to use the donated vehicles to strengthen the party and mobilise its membership.
The two vehicles were bought by Zambia's Ambassador to the Democratic Republic of Congo Fidelis Kapoka and Second Secretary at the Zambian Embassy in China Frederick Chisanga who have donated them to the ruling party.
And PF Kasama District Acting Chairman John Chilopa promised Mr Kabimba that the party will use the vehicles for the benefit of the party.
Zambia National Broadcasting Corporation – ZNBC