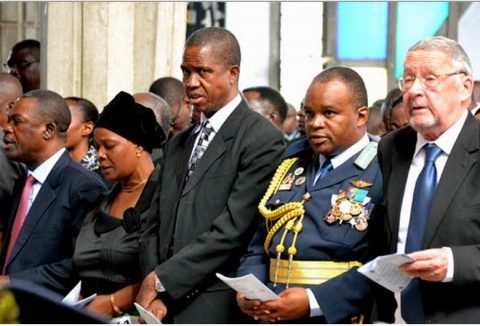 PRESIDENT Michael Sata has described the late Zambia Air Force (ZAF) deputy commander, Major General Muliokela Muliokela and Commanding officer, Colonel Brian Mweene, who died in a plane crash in Lusaka on Monday as irreplaceable assets to Zambia.
Speaking in a speech read on his behalf by Vice-President Guy Scott at the funeral service for the two officers at the Cathedral of the Holy Cross, Mr Sata said the two pilots had worked hard in ensuring the safety of Government officials and other people.
"The two deceased will be remembered for the numerous contributions they made in the numerous assignments they were tasked with. We feel the same pain as the rest of the mourners because the two were an asset to Zambia. We are sorrowful for the death of the two," he said.
The President prayed that God would sustain the lives of the families left behind.
A colourful parade characterised the funeral procession with a combined team of members of the defence force carrying guns along the street from the Cathedral to Leopards Hill memorial park.
In Church, Reverend Colonel Vincent Mwenya quoting the Bible from the book of John 14: 16-18 which gives a promise of a comforter, urged the bereaved families not to despair but look up to God the greatest comforter.
Meanwhile, a Board of Inquiry has been constituted to investigate the cause of the plane crash that killed the two senior officers.
ZAF Commander, Lieutenant General, Eric Chimese said at the burial site that the investigation would be led by the Ministry of Transport and Communications through the Department of Civil Aviation.
Gen Chimese said the Zambia Skyways, that maintained the fateful aircraft, had conducted the pre-flight technical checks on the fateful day.
He said Gen Muliokela was his chief adviser, who was hardworking, intelligent and mature while Col Mweene was a friend although he was junior.
Defence Minister Edgar Lungu said a dark cloud hang over his ministry and ZAF as they bade farewell to some of the most skillful pilots in the Air Force.
Maj Gen Muliokela's older brother Albert and Col Mweene's uncle Wesley thanked President Sata, his Government, relatives and friends for lessening the bereaved families' burden through their support.
Scores of people from all walks of life converged at the Leopards Hill Memorial Park where Gen Muliokela and Col Mweene were buried next to each other and were accorded a 13 gun salute coupled with a fly past by two helicopters.
Mr Lungu presented Gen Muliokela's 15-year-old son David and Col Mweene's six-year-old son Brian with their parents' medals.
Times of Zambia