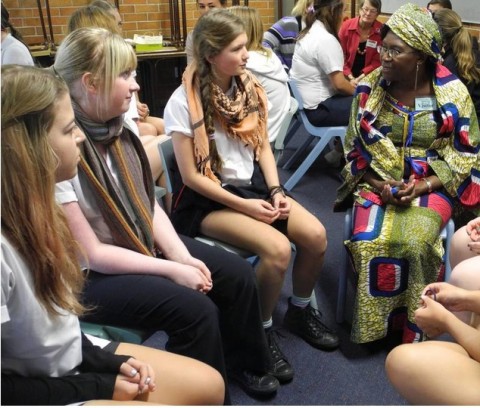 Zambian migrant Dorothy Makasa spoke with students of Wingham High today (Thursday May 22) as part of the Africa comes to the Manning festival. Students from years seven, eight and ten were invited to join in the storytelling to learn the craft of telling and writing great stories.
Dorothy calls herself "a grandmother who comes from Zambia" and her stories highlighted the "Ubuntu" (oo-buun-too) theme of the African Festival. A southern African term, "ubuntu" invites participants to share in the belief of a universal bond of sharing that connects all humanity.
Year 10 English teacher Gary Dunbier explained that Dorothy asked the students what they do after dinner. Answers ranged from spending time on Facebook to watching television. Dorothy went on to explain that in her village people don't use these things; instead families get together around the fire and tell stories. "These stories have morals and offer teachings," said Gary. "What Dorothy talked about seemed so natural and right."
"Any opportunity that allows us to connect at any level should be embraced," said Dorothy adding that even social media can offer people the chance to share stories. Dorothy believes that regardless of our background or differences, we are all connected. We tell and relate to each other's stories "because we belong."
Story-telling sessions
Story-telling sessions have been organised across a wide range of ages and 'life experiences': from students at Wingham High and Taree West Primary School to members of Manning Net, Manning Valley Senior Citizens and U3A.  An open forum with Dorothy has been included in the African festival program at the Regional Art Gallery today (May 22) from 2-3.30pm. While the session is free, bookings are required 6553 5121.
The festival aims to raise awareness about African culture and issues faced by African migrants and refugees in Australia, whilst celebrating their contributions to Australia and showcasing the Manning Valley. Full festival program details are available onhttp://africacomestothemanning.blogspot.com.au.
Auspiced by Manning Valley Neighbourhood Services, the second Africa Comes to the Manning festival will promote good news from Africa with colourful, zest-filled activities that celebrate African migrants' contributions to Australia. The festival is based at Taree's Manning Art Gallery, with a bounty of free activities for all ages.
A little more about Dorothy Makasa
Dorothy is now a proud Australian citizen living in Sydney with her partner, who comes from Uganda. As well as being a master story teller, Dorothy writes poetry and short stories, and is developing an interest in drawing. By day she works for Catholic Mission in local engagement and education.
In her spare time, Dorothy is involved in many community initiatives both in Australia and her country of origin.  She optimistically shares her experiences about issues affecting Africa through interactive workshops at local schools and community organisations. She is also passionately involved in the Let African Children Learn Association (LACLA www.laclaaust.org ), which is committed to enabling children from disadvantaged communities in Zambia to receive an education and break the cycle of poverty.
SOURCE – The Wingham Chronicle