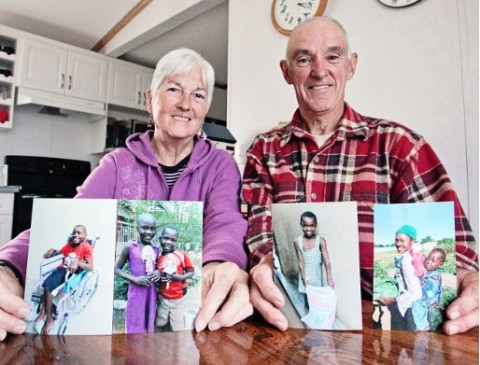 Tom and Cheryl Martin are home again from their annual visits to Peru, Uganda and Zambia.
Every fall, the Martins escape the Canadian winters and return in spring. But for anyone who knows the Napanee couple, they know that these trips to South America and Africa are anything but tourist stops.
The Martins are touring the many individuals and families they've met and projects that they have helped establish for the past eight years with their non-profit organization, Helping Cope Through Hope (HCTH).
The couple's desire to make a difference in the broader world began in 2006 when they decided that in their retirement, they wanted to give back in some way. Their grassroots organization was born, boasting a 100% giveback rate for all donations collected.
Today, HCTH is still grassroots — just small enough that Cheryl and Tom can visit every person and location they assist in the three countries to which they travel. But its impact is enormous. To date, the organization has administered approximately $1 million in donations and changed hundreds of lives through educational sponsorships, infrastructure development and whatever needs crop up during their tours among the poorest of the poor.
"What is happening in Africa and Peru is incredible," said Tom."The fact that it's two people that really just put ourselves and our time into it. It's the help of other people, too. We're amazed ourselves."
Tom and Cheryl are obviously passionate about the project. Their entire life schedule revolves around their trips to administer donations they gather in their months at home in Napanee. As soon as they are home in April, donations of clothing and items for transport or for fundraising purposes begin to pour in. Their calendar fills with speaking engagements throughout Ontario and parts of the U.S., where they travel to update the people who have donated or signed on to become child sponsors.
One of the biggest focuses of Tom and Cheryl's outreach is education — they see in their travels how without education, children and youth have little chance of escaping the cycle of poverty. They collect sponsorships for younger children who cannot afford to attend elementary or high school — for $360 a year a sponsor in Canada can cover all of one child's costs associated with school, including school fees, shoes, school uniforms and supplies.
With extra donations, Tom and Cheryl take the sponsored children to the markets to buy clothes and whatever else they might need, including food for their families.
"Sometimes we buy mattresses, beds, mosquito nets, all kinds of things the children might need that they wouldn't otherwise get," said Cheryl.
HCTH currently sponsors 126 kids.
"And that's not counting a lot of other kids we help go to school," said Cheryl. "There are families that we sponsor three or four in the family, but they have seven or eight kids so we end up sending the whole family, because we just feel that these kids need to be in school."
Even more exciting to the Martins is the increasing response to their pleas for college or university sponsorships.
"We've got 18 kids in university or college," said Tom. "That's amazing."
Those kids are put through college or university in their home countries of Peru, Uganda or Zambia for approximately $1,600 to $1,800 per year, generously sponsored by individuals from around North America and even Europe.
"This is one area we've been led into," said Tom. "The other organizations that sponsor children stop at 18."
"It is more expensive, of course, to put kids through university than just high school or elementary school," said Cheryl. "Sometimes we have people contact us who have sponsored a specific child for a long time."
In addition to the 18 currently attending colleges and universities, HCTH has already seen 12 successful college or university graduates complete their education and move into careers — teachers, a business administrator, a physiotherapist, a priest.
As needs crop up, the Martins use their discretion for non-designated donation funds. This past year, they helped a family they've known for some years transport the body of their father so he could be buried near them. They even helped pay for the burial.
"We've been involved in everything from bailing people out of jail," said Tom. "You never know what to expect.
In Zambia, they provide food for families, and they have invested in eight businesses there. They repair houses and even help build houses — two this past year.
They bought desks for a school they help; bought a plot of land for a house. They also maintain a farming project in Zambia at a parcel of land they purchased three years ago. The farm provides the land for several families to make a living farming chickens, pigs, goats and crops. This year they installed an irrigation system while there.
Pigs, goats, chickens, mattresses, blankets, medical needs, food and bicycles are all regular items that they help people acquire.
Tom and Cheryl have taken 85 people along with them on these trips, to date — an experience that is life-changing for many of them. People travel with Tom and Cheryl between towns and villages to visit families and project sites, and they get the chance to meet their sponsored child, or even meet someone that they feel moved to help
"Those people come and then find a child that they really want to help, and then maybe sponsor that child for the next 15 years," said Tom, who encourages people to take the trip if they ask whether they should travel with them or simply put those travelling costs into the organization through donations.
Helping Cope Through Hope has garnered increasing community and worldwide support as it moves into its ninth year of operation, and most of the organization's success can be traced to the dedication that Tom and Cheryl have shown. All donations given are rerouted directly to their allotted projects or people, with zero overhead costs — a rare accomplishment in today's non-profit world, where overhead costs can run up to 20, 30 or even 40%, in some cases.
Someone interested in donating heavily to HCTH came to Tom and Cheryl with their publicly-accessible financial records for the past several years. He also brought records for other non-profits and compared the overhead costs.
"He said, 'I notice that the first year, 85% went, then 65% and then 50%. But I notice for you, 99% goes, consistently. How do you do that?' We have no office, we don't employ anybody, we pay our own airfare, accommodation and food. Basically what people give us goes. I told him, the only expense is bank charges."
Tom won't name names, but he and Cheryl have both witnessed the ineffectiveness of some large organizations that claim to provide aid and support in Third World countries. They don't want to ever see HCTH go that route, and that's why they refuse to expand beyond what they themselves can oversee.
Still, they have grown.
"It blows our mind to think of how many more people are giving," said Cheryl. "A lot of it is word of mouth. People tell people, or they hear about us in the paper, and want to donate."
Tom and Cheryl never want to see the organization grow beyond what they can do themselves.
"I don't want to ever be big," said Tom. "It's already very difficult. The most difficult part is going to three countries, dealing with three cultures, three different types of need. There's great need in all of those areas, it would be so much easier to be in one."
More than 150 unsolicited letters of gratitude tell the stories of hopelessness and poverty, reversed by donors to Helping Cope Through Hope: An HIV-positive mother trying to support her children, unable to afford school fees; young people finished high school left in limbo at home, without the finances to attend post-secondary school; children with lives changed through education and basic needs being met.
"Thank you for your financial support to help me to go to university," writes one man. "I am longing to be a teacher. After completing secondary school, I stayed home for six years because I had no one to help me, until I met Tom and Cheryl. These are the people who gave me the hope to go to college by alleviating my financial problem. I am the most grateful person."
A young woman wrote to both Tom and Cheryl and to her sponsors.
"I really want to thank you so much before I even thank my sponsors, because you are the reason they know about me," she wrote. "You have done a lot for my family. Who are we that you chose out of millions of people in the world? The day you told me that you knew were sending me to university after knowing me only four days, I could not believe it. … You changed our lives and the welfare of our family. … I thank you for sacrificing your hard-earned money on a person you know nothing about. I promise to work very hard at school and make you proud, and not make you regret spending money on me."
Tom and Cheryl are very grateful for the people who support their cause.
"We have found people to be so generous," said Cheryl. "People just want to see that their money that they're giving to a charity go towards something worthwhile."
For more information about Tom and Cheryl and Helping Cope Through Hope, visit www.helpingcopethroughhope.org.