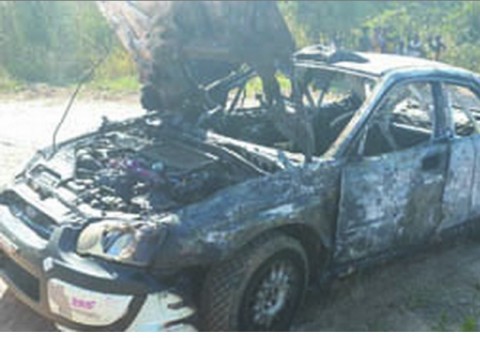 At Graham Rae Farm-
AFRICAN champion, Jassy Singh's hopes of retaining the national rally championship yesterday went up in flames when his Subaru Impreza N10 got burnt in Chisamba as Mohammed Essa continued enjoying leadership of the Airtel Money 2014 Zambia International Motor Rally that comes to an end today.
Jassy, whose car won him the continental crown last year, initially gave him problems during the Special Spectator Stage in the Lusaka Motor Club on Friday after developing ball-joint problems forcing him to retire early.
The fault was electrified and the 20-year-old was back in the race yesterday but as Jassy and his navigator Sajid Khan were negotiating with stage three, the car overturned and it started leaking before it caught fire.
Jassy and Khan luckily escaped the inferno without a scratch but with heavily battered emotions of seeing the memorable car go up in flames. All efforts to put out the flames failed as Jassy and other sympathisers watched helplessly as the car reduced to a burnt black shell.
A devastated Jassy was at a loss to explain the incident saying his chances of retaining the title were over and called on the corporate world to assist him get a new car to continue with his title pursuit.
"The car was 100 percent ready for the rally. The ball-joints were fixed and I just don't know how the fire started. I now have no car and I can't even retain my Zambian title. I can't compete anymore," he said tearfully in an interview as other cars zoomed past.
"I am devastated, this is a bog blow and there is no new car in the budget. I don't know what to do now. I acquired car three years ago," said Jassy, whose school commitments has forced him not to compete in the ARC race.
Jassy was not the only casualty of the day as national champion Ken Mukosa's hopes of picking up more points in the ARC dashed after crashing out of the rally as only only 14 cars remained in the competition after 10 stages.
Others who failed to finish the race were Goeffrey Chulu, Danni Benani, Toofail Dalala, Zubair Essa and Walter Wasumuna.
Meanwhile, Essa who dominated maintained his grip taking a four seconds overnight lead over second placed Gary Chaynes of Ivory Coast. Chaynes timed 14 minutes and 53 seconds followed by Giancarlo Davite of Rwanda who finished with a time 14 minutes and 56 seconds with Jaspreet Cathhe of Kenya dropping in fourth position after finishing with 15 minutes and eight seconds.
Miles Monge was fifth with a time 15 minutes and 36 seconds, Muna Singh junior clocked 15 minutes, Farook Ticklay timed 16 minutes and two seconds, Chimanga Biyela 17 minutes and 12 seconds, veteran driver Azim Ticklay clocked 18 minutes and 44 seconds same as Kelvin Mhlanga, Yazdaan Ticklay was on 19 minutes and two seconds while Jurgen Sauter closed the drivers list with 19 minutes and 42 seconds going into today's final race.
Times of  Zambia