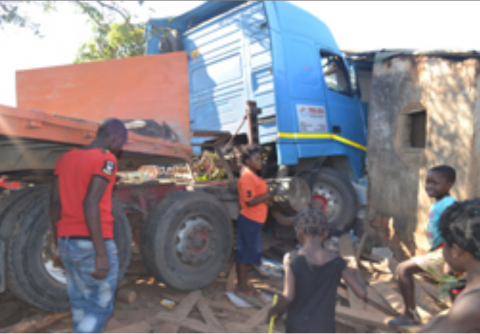 A NINE-YEAR-OLD boy was seriously injured when a truck rammed into a house in which he was sleeping in Masala Township in Ndola.
The incident happened yesterday around 03:00 hours after the driver of the Volvo truck ACV 75527 lost control and hit into house number 1812 on Dola-hill Road in Masala Township, Ndola while the family slept.
Ten members of the family were asleep in the house when the truck crashed into the sitting room, where three children were sleeping.
Two of the children aged 11 and 16 escaped unhurt while the boy suffered injuries to lower parts of his body after debris fell on him.
Property that included a television set and fridge, were damaged.
A check found the truck still stuck in the sitting room and a crowd of onlookers surged forward to have a glimpse of the vehicle lodged in the sitting room.
The owner of the house, Diana Ngoma said three of her children were asleep in the sitting room when the truck hit into the wall that collapsed.
She said one of the three children sustained injuries on his legs and had since been taken to the hospital for treatment.
"I rushed to check on the my children that were sleeping in the sitting room after hearing the bang.
"They told me they were okay but the small one complained of pain on his legs. His brothers have since taken him to Arthur Davison Hospital, Ndola for treatment," she said.
Ms Ngoma said the driver of the truck bolted after the accident.
Times of Zambia