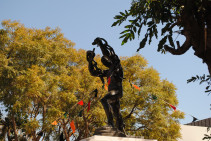 It is a commonly known fact that the Freedom Statue standing defiantly along Independence Avenue in Lusaka represents our freedom earned with sweat and blood, sometimes literally. For Zanco Mpundu Mutembo, the flesh behind the stone, the statue represents his life. But the knowledge that a real human person stood for us and physically severed the chains, or even that the man is still alive is not very common, at least from what I have found out.
I remember my Social Studies teacher in fifth grade remotely referring to the Freedom Statue and I think the name 'Mposa Mabwe' came up now and then in the discussion. But he failed to mention that the act depicted by the stone figure at the freedom statue is a true life event that got captured on camera and frozen solid by casting experts. I have tried once or twice to search for his name on the internet but I only land two stories that the post and daily mail did on him. That is all. It says quite a lot about how much of our history is inadequately documented.
The story of the Freedom Statue all began on December 31 1963- with Zambia's independence now imminent when – Sir Evelyn Hone, the last governor for Northern Rhodesia as Zambia was called then asked Kenneth Kaunda for a symbol the new nation would be known by. Would it be the Victoria Falls or perhaps the Muchinga Escarpment, or any other important natural resource? Kaunda however had other plans on his mind. He called Mpundu Mutembo a strongly built teenaged freedom fighter from Mbala who had earned himself a place among the ranks of freedom fighters such as Simon Mwansa Kapwepwe and told him that he had been chosen to die for the nation and told him to be strong.
Who is Zanco Mpundu Mutembo?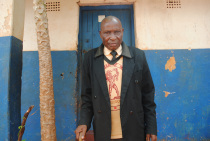 Born in 1936 in Mbala, Mpundu Mutembo and his twin brother Arnold got involved in the freedom struggle for independence when they were just teenagers. This was after dropping out of school following their father's demise.
In 1957 having already earned his place in the political struggle in Northern Province which was led by Kapasa Makasa and Kapwepwe Mwansa, Mutembo along with seven others were sent to Kenya where Dedan Kimathi was leading a rebellion against the British. Their mission was to learn how to carry out their own rebellion back home.
When he returned, Mutembo worked closely with Kapwepwe and Kaunda, following them on their campaign trails.
On October 24 1958 at a location in Chilenje Mutembo got his pet name ''Zanco'' It was also here that the unborn nation was christened.
Apart from pet naming the handsome looking young Mambwe the meeting also named the anticipated 'new' nation. The nations name was proposed by Kaunda and Kapwepwe.
''We had wanted to call it Zambezia, but we settled for Zambia. When we chanted the name 'Zambia Zambia!' it sounded very nice and we all started dancing like little children,' Mutembo recalls.
According to Mutembo the motto ''One Zambia One Nation was also coined at the same meeting which also marked the birth of the Zambia Africa National Congress (ZANC).
Later on on 31 December 1963, after Mpundu was chosen by Kaunda and the UNIP Leadership as the symbol of the soon to be born nation he drove with Sir Evelyn in his official vehicle with a mounted police escort down King George Avenue (now Independence Avenue) to police force headquarters. At force headquarters after being interviewed, he was taken to a room where 18 military officers stood with guns at the ready. He was then handcuffed to a chain ordered to break free.
''Zanco break the chain. If you fail we will shoot you'' the soldiers were shouting. Someone was taking pictures of the freedom fighter. ''it was hard and I was sweating. After pulling so hard the chain snapped and the governor raised his hands'' he narrates. ''You are now the symbol of the nation'' the governor announced._
Unveiled on October 23 1974 the freedom statue has come to symbolise Zambia's freedom from the British. The statue has also earned its place on some of the country's most important articles, including its currency.
How I got to meet him.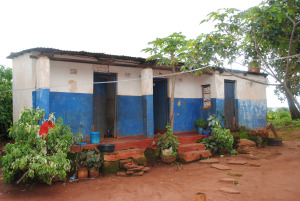 I caught up with Zanco earlier on in the year when I made a trip toMbala. To get to his house, I'm directed to take President Avenue. Rounding a corner, kids are engaged in a game of street soccer and I have a tough time getting any of them to help with directions. Finally one reluctantly separates from the group and points his dusty finger in a general direction. As I approach the house I'm greeted by the sounds of Angela Nyirendas ''Malo Abwino'' as the stereo pounds above the chatter of young men enjoying some local brew in a traditional hut overlooking a small old White and blue house._
His wife welcomes me and leads me inside the house as I'm told Zanco would see me in a few minutes. Clearly, the old man with a staff making his way into the room holds no resemblance to the image at the freedom statue….time has separated Mutembo from the ageless youthful figure cast in stone. I had a lot of questions for him, but being a politician, he stirs the conversation in a direction that answers questions unasked but that he feels were important to the whole struggle. Together we visited the Heroes cemetery located some 10 minutes' drive from town, as well as Lumumba house located at no 214, Bwangalo Road._
The house was given to him by Sir Evelyn Hone. He gave it to the party (UNIP), which used it as a district office. Right now it looks disused and he tells me some people are using it as a carpentry workshop…The house is located near Barclays Bank and after withdrawing some newly rebased notes, the guards at the bank notice Zanco and one of them tells him that his image has been maintained on the new currency….but also tells us that the friend he is guarding with did not believe him when he explained to him earlier that the man walking down the street was the one pictured with chains on the nations articles…Zanco just smiles. _
It is very apparent his contributions to the countries struggles are immense and he feels the country has not done much in appreciation…he has his own demands…but it is his claim of five per cent of every national budget that raises eyebrows…an amount too big for an individual by Zambias standards. Maybe he uses that figure symbolically…because after all his life is full of symbols…
CREADIT – Chibamba Kayula