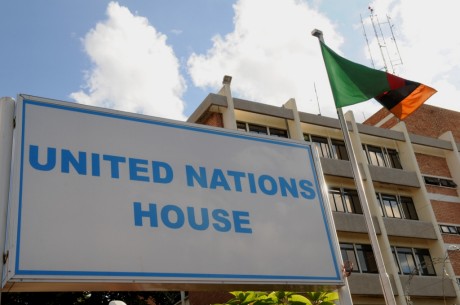 The United Nations Development Programme (UNDP) has awarded six grants through the Global Funds totalling U S $389 million to support national HIV/AIDS, tuberculosis (TB) and malaria programmes.
UNDP Country Director, Viola Morgan, is happy that Global Fund-supported programmes were performing well in Zambia.
Ms Morgan says mosquito nets worth US $4.8 million would be distributed in Zambia between June and October this year to prevent malaria incidences and reduce maternal and child mortality rate.
She said this in Lusaka today when she handed-over six Toyota Land Cruiser vehicles and one 4 x 4 Toyota Hilux to the Ministry of Health (MoH) valued at US $290,000.
The vehicles would be channelled towards supporting the implementation of voluntary and medical male circumcision, the blood transfusion program and project management unit for co-ordinating HIV/AIDS,TB and malaria programs.
The UNDP Country Chief disclosed that Zambia is highly rated in mainstreaming the health sector and appealed to the Zambian government to consider applying for new funding model to strategically respond to the financial gaps the sector is faced with.
And receiving the donation, MoH Permanent Secretary (PS) Davy Chikamata commended the UNDP for the gesture.
Dr Chikamata assured that the vehicles would not be abused but work for the intended purposes of scaling up HIV/AIDS, TB and malaria programmes in the country.
The PS said the donation is timely, adding that this was not the first Zambia had benefited from the UNDP as the friendship backs in 2002 and including the Medical stores Limited as a sub-recipient.