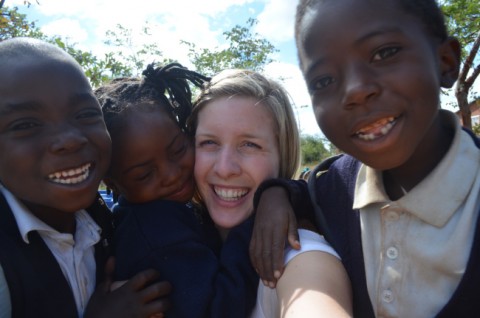 I sit on a slab of concrete, under the canopy of pale blue skies and dotted white clouds. Immanuel, a kindergarten student at the Esther School finds a place on my lap. We are both content to curl up and just sit, soaking up the last few moments of my time in Zambia. His uniform is stained and dusty, he's sweaty from playing basketball with me all afternoon. It's hard to imagine he'll be part of the class of 2026, graduating and starting life with opportunity. He's already reading and writing at the same level of grade three students at the public school. I smile thinking of the person he'll become.
A few days ago I followed a grade one student home, met his parents, and saw where he lived. Two small mud huts, with thatch roofs were surrounded by a dusty yard and clothesline.  Sweya's mother greeted me warmly. His father was quiet – he was just  visiting…Sweya's mother is just one of his wives. Polygamy – I learn – is much more common out here in the bush.
Sweya's family lives with no electricity, running water, flushing toilets, or even furniture. They sleep on the dirt floor. They fetch water from the well, and grow the food they eat. Sweya is 11 years old and in first grade. It's typical in rural Zambia. And standing here,  under the hot African sun, something I wrote years ago – after having lived in Zambia for a few months – echoes back.
I have learned to value not how much I have, but how little I need.
When it comes down to it, stuff doesn't last. It doesn't matter at all. And yet the comfort of having it distracts us from everything else. It's often only when we are stripped bare that we can really see what's important. In those times, it's relationships, it's people, it's God that we yearn for. 1 John 2:15 says it pretty clearly. Do not love the world or anything in it. It doesn't leave much wiggle room. If we love the world, the love of God isn't in us.
So I head home, after just a week in Zambia, jealous for that simplicity. Itching for the clarity that comes in stillness when the power is out and the internet is down and star-gazing is entertainment enough.
Be Still and Know.
Along with the huge amount of work ahead of me – to edit and create videos for the Esther School and GEMS – I want to take that perspective back home with me. I want it to cling to me like the burrs I picked out of the hem of my skirt each night. I want to choose that life. To choose simplicity.
My name is  Stephanie (vanKampen) Garrett. My African journey began in 2007, when I accepted a summer internship with Every Orphan's Hope in Lusaka, Zambia.