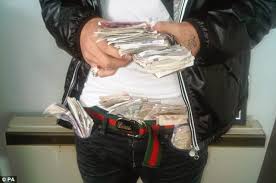 A PAIR of dozy drug dealers were behind bars last night after they were caught proudly posing for pictures with piles of cannabis and cash.
Eugene May-Dyer, 24, and Russell Turner, 18, were snapped grinning on camera crouching over a huge stash of marijuana on their living room floor.
Turner was also captured in another image found by police with wads of drugs money stuffed into the waistband of his trousers.
Alongside pals Ian Cunningham, 24, and Grant Barnhurst, 21, the gang sold cannabis across Birmingham.
They were caught when police raided their homes and found the incriminating evidence on their mobile phones.
A court heard the phones also contained thousands of text messages discussing the supply of drugs.
The four men were jailed for a total of three-and-a-half years at Birmingham Crown Court this week.
Detective Chief Inspector Andy Bannister, of West Midlands Police, said after the case: "These are young men who had formed a fledgling gang.
"We managed to intercept them at an early stage before their criminality could escalate and cause more damage.
"No one should have to put up with drug dealing on their doorstep."
The court heard the gang's cannabis den was uncovered in November 2012 when officers stopped a car being driven away from Turner's home and found a quantity of drugs.
A search of his garden shed – described as a chill-out summerhouse complete with TV – uncovered cannabis with a street value of £1,400.
Fingerprints belonging to May-Dyer and Cunningham were found on the drugs bags while a BlackBerry phone contained over 60,000 messages, many linking the men to drug dealing.
They were arrested in February last year during simultaneous raids on 10 addresses.
At Cunningham's flat, officers seized almost £1,000 worth of cannabis, dealer bags and digital scales.
At Birmingham magistrates court last December the four, of Kings Norton, Birmingham, admitted conspiracy to supply Class B drugs.
On Wednesday Turner, a labourer, was jailed for 13 months while May- Dyer was jailed for a year.
Cunningham, a refuge worker, and Barnhurst, who is unemployed, were both handed nine-month prison sentences.