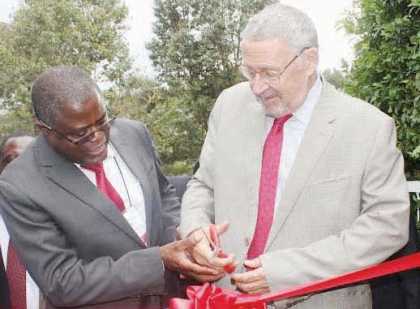 VICE-PRESIDENT Guy Scott says it is Government's obligation to check on the performance and operations of the mining sector.
Dr Scott says mining companies should not complain when Government constantly checks on their operations because it has a duty to find out how they are performing for the benefit of the people.
He was speaking in Kitwe yesterday during the official opening of the Copperbelt Mining Trade Expo and Conference.
The vice-president said investors should bear in mind that the mineral wealth belongs to Zambia and its citizens.
"As Government, we have the right to know what is happening in the mining sector. We want to find out what you are doing and how you are performing. The minerals that are in the mines are for the Zambians and even your workers are Zambians," Dr Scott said.
He also urged mining companies to be transparent in their operations by ensuring that they disseminate information on issues raised such as tax evasion.
The vice-president said the withholding of information by mines on pertinent issues leaves room for speculation about their operations.
Dr Scott also said Government will continue monitoring the operations of the mines to ensure that the mining industry is managed in a proper manner.
And on tax, Dr Scott urged mining companies to meet their obligations to enable Government to implement  development projects.
"If the country had no good roads and other infrastructure, the investors would have not found the country conducive to do business from.
This is the reason why Government needs to collect tax from the mines for us to implement projects," he said.
Dr Scott is also concerned about people's preference for imported products, which is detrimental to the local industry.
He urged investors in the mining sector to consider using locally manufactured products to promote the growth of the local industry.
Dr Scott also said Government wants to see the mining industry operating   in accordance with stipulated guidelines on environment protection to conserve natural resources.
And Copperbelt Mining Trade Expo and Conference organising chairperson, David Ashdown said 90 companies have participated in the event, which has attracted investors from Germany, South Africa and Scandinavian countries, among others.
Mr Ashdown described the trade expo as a success and that the organisers will make it an annual event.
"There was a lot of demand from the mining sector here on the Copperbelt to have a trade expo where stakeholders in the industry can meet with the suppliers of mining products.
This is the reason why we brought this event to the Copperbelt and it has attracted more than 90 exhibitors," he said.
And   Minister of Mines, Energy and Water Development Christopher Yaluma said Government wants to ensure business opportunities in the mining sector are given to local suppliers.
Mr Yaluma said Government will next week meet mining companies to discuss pertinent issues affecting local suppliers.