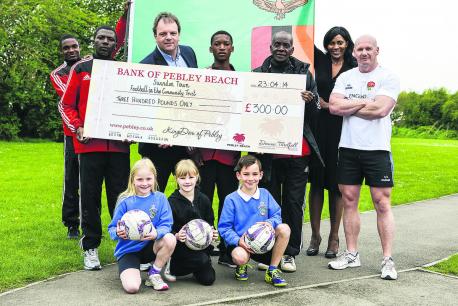 ZAMBIAN football coaches put pupils from Robert Le Kyng through their paces yesterday as the school launched a collection to help children in the country.
The trainers, Mwikisa Sinyama, Fillard Bwalya, Albert Siwakwi and Bata Soko, from the Zambia Livingstone FA Coaching Association were over in England working with Swindon Town Football in the Community Trust (STFiCT). They are learning from Town's coaches with the aim of improving the quality of football in Zambia.
During their visit, the coaches took part in an assembly, held training drills with pupils and posed for photographs with the children.
Dave Barnett, assistant headteacher, said: "It was great to welcome the coaches and our children were so excited when they arrived."
The school, in Westcott Place, used the visit to launch a link with Mahulalo School in Livingstone, Zambia, which will see pupils and staff collecting equipment for them over the coming months.
Robert Le Kyng is welcoming donations of pens, pencils, books and paper. They will be sent to the school when STFiCT travel to Zambia in October to check on the progress the coaches are making.
Mr Barnett said: "The visit was the perfect opportunity to announce the link. "This is the first time that we've had an international relationship with a school and we are pleased to do all we can to help them. "We are running the collection as we want to improve the quality of education for the children as well as teaching our pupils about how different things are across the world, as our children will take for granted that there are children who don't have pens, pencils and paper." During the coaches' visit car dealership Pebley Beach donated £300 to STFiCT's work in Zambia with the funds being used to make footballs in Zambia.
Dominic Threlfall, Pebley Beach MD said: "We're delighted to support this and will be doing more to help the children of Livingstone."
To donate to Robert Le Kyng Primary School's appeal call 017935 23119 and for more information about STFiCT's work visit www.stfitc.co.uk.