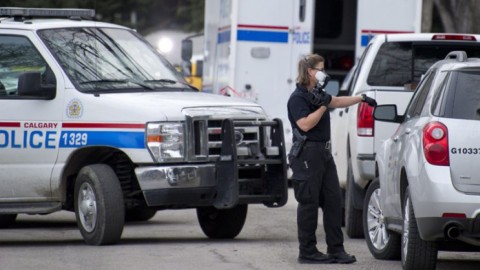 A University of Calgary student was charged in the fatal stabbing of five people at a house party Tuesday that the police chief called the worst mass slaying in the western Canadian city's history.
Matthew Douglas de Grood, the son of a 33-year veteran of the Calgary police force, picked up a large knife shortly after arriving at the party and stabbed the victims one by one, said police Chief Rick Hanson.
De Grood, 22, was charged with five counts of murder late Tuesday.
"This is the worst murder – mass murder – in Calgary's history," Hanson said at a news conference Tuesday. "We have never seen five people killed by an individual at one scene. The scene was horrific."
The attack in the western Canadian city came nearly a week after a teenage boy in the U.S. stabbed and wounded 21 students at his high school outside Pittsburgh.
Hanson said the motive for the Calgary attack was unknown. He said the suspect's father and mother are devastated.
"They are now feeling so much sorrow," he said. "Those young people are dead and they are absolutely devastated."
Hanson said the identities of the five victims – four men and a woman – will be released when autopsies are completed. He said their ages range from 22 to 27 and they were all "good kids."
Neither the victims nor the suspect had any prior involvement with police, Hanson said.
Hanson said about 20 people were at the party celebrating the last days of classes at a home in the northwest residential neighborhood of Brentwood, near the campus. He said the suspect was invited to the party and showed up after working his shift at a grocery story and was welcomed inside.