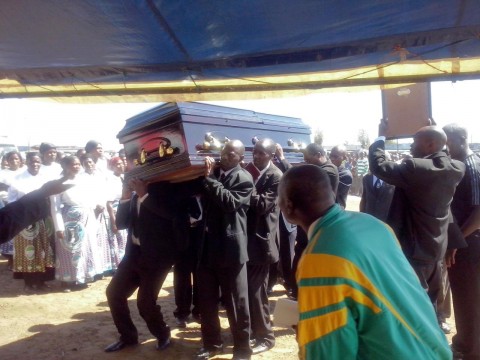 By SANDRA MWILA –
DEFENCE Minister Edgar Lungu yesterday led mourners in paying their last respects to former Zambia Under-20 soccer coach, Keagan Mumba, who was put to rest at the Leopards Hill Memorial Park Cemetery in Lusaka.
People from all walks of life gathered at the Chawama Basic School grounds where the  church  service for Mumba, who died on Saturday after an illness, was held.
His former players at Zanaco, including Green Buffaloes where he also coached were clad in their team jerseys as they gave their trainer a befitting send-off.
Mumba's wife, Florence, in an emotional tribute, said her husband was a pillar of the family and will forever be treasured.
"Farewell my beloved husband Keegan, my days of joy have come to an end and no one will be able to fill the gap you have left in our lives. You were the pillar of the family and I shall forever treasure the happiness we shared. I will always remember the days you came home with a smile when your team won. Rest in Peace until we meet again," she said.
Lungu, who is also Chawama area Member of  Parliament (MP), pledged to sponsor a football tournament in honour of Mumba.
He said Mumba had left a legacy behind and that he lived a humble lifestyle of being truthful, selfless and had a passion of contributing to development of football.
"We should emulate Keagan and build upon the blocks that he has left and continue developing sports and not removing the blocks," he said.
Sports Deputy Minister, Christopher Mulenga said Mumba ran a good race and dedicated his life to the development of soccer.
"Our lives are touched and as Government, we shall forever be grateful to his contribution both at club and national level," he said.
Football Association of Zambia (FAZ) head of competitions and administration Julio Chiluba said Mumba was a great son of Zambian football.
"It's a sad occurrence that in the same year we have lost sportsmen that have contributed to the growth of football. It was Dennis Lota, Kaizer Kalambo and now Mumba," he said.
The  Zambia Sports Fans Association (ZASOFA) played solemn music during the procession at the cemetery.
Prominent among those present include Foreign Affairs Deputy Minister Gabriel Namulambe, Mines Deputy Minister Richard Musukwa, Sports permanent secretary Agness Musunga and director of sports Bessy Chilemu.
Others  were  Sports Council of  Zambia (SCZ) board chairperson, Mwamba Kalenga  with general secretary Mann Muchimba and some senior Government officials and football administrators.
Zambia Football Coaches Association (ZAFCA) vice-president, Lewis Shambulo, various coaches among them Chipolopolo trainer, Patrice Beaumelle, Green Buffaloes' Patrick Phiri, George Lwandamina  of  Zesco United, Dean Mwiinde,  Zanaco head coach Aggrey Chiyangi and his assistants Numba Mumamba and John Lungu were also in attendance.