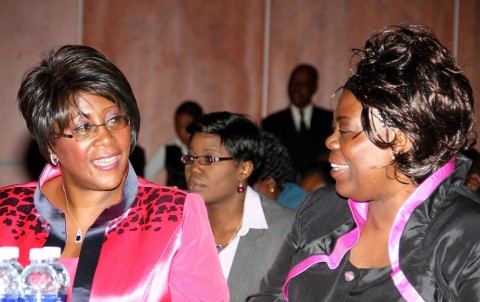 PRESIDENT Michael Sata has promoted Community Development, Mother and Child Health Deputy Minister Jean Kapata to the post of Tourism and Arts minister.
Ms Kapata replaces Ms Sylvia Masebo, who was relieved of her duties last week.
President Sata's Special Assistant for Press and Public Relations, George Chellah announced the changes to journalists at State House yesterday.
Mr Chellah said the President had since appointed Patriotic Front (PF) Mkushi North Member of Parliament Ingrid Mphande to replace Ms Kapata as Deputy Minister of Community Development, Mother and Child Health.
Ms Kapata won the Mandevu seat in 2011 after which she was appointed to the Community Development deputy ministerial position.
Ms Mphande won the Mkushi North seat on the PF ticket in July last year after petitioning the election of MMD's Mutale Musonda's in the 2011 general polls.
The seat was nullified on grounds that Mr Musonda was involved in corrupt activities and disseminated malicious statements.
Mr Chellah said the position of Home Affairs deputy minister still remains vacant.
Meanwhile, the Tribunal appointed to probe Ms Masebo's alleged interference in Zambia Wildlife Authority (ZAWA) operations yesterday handed over its report to President Sata at State House.
The Tribunal comprised acting Supreme Court judge Rhoyda Kaoma as chairperson, Livingstone High Court judge-in-charge Ernest Mukulamutiyo, and Lusaka High Court judge Chalwe Mchenga as members. High Court registrar Mathew Zulu was the secretary.
Among those present at the hand-over ceremony were Vice-President Guy Scott, acting Chief Justice Lombe Chibesakunda, some Cabinet ministers and Government officials.
Times of Zambia