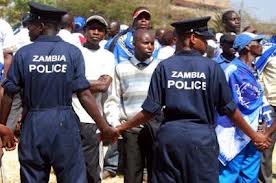 Inspector General of Police (IG) Stella Libongani has warned that any political party that will be found in breach of the provisions of the Public Order Act on holding public processions will face the wrath of the law.
The opposition UPND and MMD have indicated intentions to hold demonstrations over the constitution with or without Police permission.
But Ms. Libongani has told a media briefing in Lusaka this afternoon that the Police will use all vested powers as a principle law enforcement agency to ensure that law and order is maintained in the country.
She however says people wishing to demonstrate are free to do so provided they follow the provisions of the Public Order Act.
The Inspector General of Police who flanked by her Deputy Dr. Solomon Jere and other senior ranking command officers, has also directed all Provincial Police Commissioners in the country to ensure that the holding of public processions in their respective areas of command are in compliance with the Public Order Act.
And Ms. Libongani has explained that the heavy presence of Police at Parliament in recent days is meant to ensure that law and order is maintained so that the House's proceedings are not interrupted.
She says this was done in view of agitations by some opposition political parties that indicated plans to demonstrate at Parliament to demand for the new constitution without prior notifications to the Police.