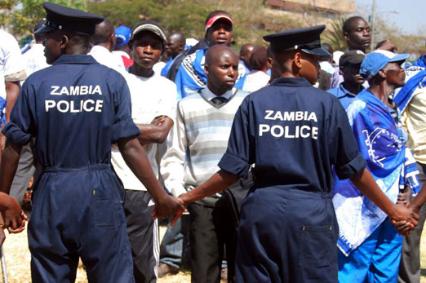 The Police and Public Complaints Authority (PPCA) has warned officers to refrain from torturing suspects as a means of extracting information.
Meanwhile, the Police and Public Complaints Authority has continued to receive numerous complaints from members of the public against officers ranging from brutality, unlawful detention, misconduct and lack of courtesy.
PPCA Board Chairperson James Mwanakatwe disclosed this today during a sensitization meeting with Heads of Government Departments in Kapiri Mposhi .
Mr Mwanakatwe said the Police Service should be accountable to the public and not be used as a tool for oppression.
 Mr. Mwanakatwe said Zambia is a signatory to various convections on human rights which prohibit the use of torture as a means of extracting evidence.
He said Police officers should always strive to professionally handle suspects to secure convictions without the use of coercion and any other human degrading force.
"Complaints such as police brutality resulting in deaths and serious injuries have continued to reach our attention, these are being committed by some overzealous police officers who are abusing their powers",  Mr  Mwanakatwe said.
Mr. Mwanakatwe urged the members of the public to take advantage of the PPCA to report any form of abuse by police officers.
Meanwhile, Mr. Mwanakatwe has said the PPCA was not performing effectively because it is not mandated to enforce its decisions.
However, Mr. Mwanakatwe said the PPCA was undergoing reforms to strengthen its mandate to provide an oversight role on the operations of police and other law enforcement agencies in the country.
Mr. Mwanakatwe said there was need for the PPCA to be given more powers in order to promote accountability and transparency in the operations of the police service.
"the PPCA ends somewhere because we cannot mete out punishment against erring officers and we cannot compel decisions to be made but only make recommendations…. we need to have powers to enforce our decisions if our mandate is to be complete",  Mr  Mwanakatwe noted.
Meanwhile, Kapiri Mposhi District Administrative Officer (DAO) Jackson Mutale has challenged the Police and Public Complaints Authority (PPCA) to conduct sensitization campaigns on its mandate.
Mr. Mutale said most people were ignorant about the existence and operations of the PPCA and how to  lodge complaints against police officers.
"Most cases of authority abuse by police go unreported because of the information gap and most victims of police brutality have merely accepted the misconduct of the police because they feel this is the way to go",  said Mr Mutale.