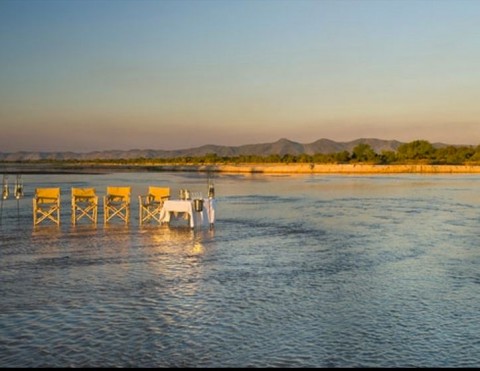 Another morning in Zambia, another round of goodbyes. This was followed by hellos and smiles at a new camp, Zungulila. (A name I still can't pronounce.) Upon arriving, Zunguilila's staff filled in our guide, Manda Chisanga, on the shenanigans of a group of hyenas who'd visited the camp the night before. Apparently, they'd eaten the open-air lobby's carpets, including a zebra hide.
"Zebra hide? I" asked quizzically? Said hide had been under a stack of trunks, part of the Zungulila's bygone, Old Africa theme. In fact, I'd already affected an accent like Meryl Streep in Out of Africa and was scouting around for Robert Redford. "That's nothing," Manda replied. "Hyenas eat anything, including car batteries. Of all the scat and dung in the bush, the only kind that's never eaten by another creature is that of the hyena. It's deadly."
Hyenas are very uncivilized, my inner Meryl thought.
In short order, lunch was served. To our utter shock, two other guests were at the table. This was the first time on safari we'd actually encountered other people, and Texans at that. It was a jolt, reminding us we'd be returning to Mfuwe the next day, and soon after that, "civilization." As it turned out, the Texans were in Zambia to learn about bush conservation practices they could implement on their ranch. The bush certainly was providing an education.
Post siesta, it was time for a walking safari. By now the Texans had departed and it was again just our small throng. We traipsed into our vast classroom, which was giving a lesson in botany this particular afternoon. Feeling particularly plucky, I inhaled African basil to check out its benefits for the lungs. Ahh… mine felt clear as a bell.  I passed on trying another weed Manda identified as elephant chewing gum.
Further along the trail, Manda spotted what looked like mini marshmallows in the grass. He picked up a few. Could we guess what they were? Twice-digested desert brush hare poop. Um, okay. Why twice? Apparently, eating their first round of poop is good for the hare. Now here's the kicker. Eating the hare's second round of poop is good for humans. You read me right. It's supposed to be good for eye health. Did I mention I was feeling plucky in the paragraph above? Oh, yeah. I ate rabbit poop. And I liked it. Shared it, too.
Dearest hyenas, I realize I referred to you as uncivilized. My apologies. I'm sure those car batteries also tasted just like toasted wheat.
Soon after this snack, we passed a group of buffalo. The river they were standing in looked so cool and inviting on this particularly hot evening. Lucky for us, a surprise was just around the bend. A set of chairs and glasses of champagne were sitting directly in the Kapamba River.
In quick order, we dispatched our shoes, rolled up our pant legs and waded out for the perfect vantage point of the Nchindeni Hills. Cresting above them, the sun bid us goodnight and we wished what we considered the "true bush" a final farewell.
 by Bekah Wright