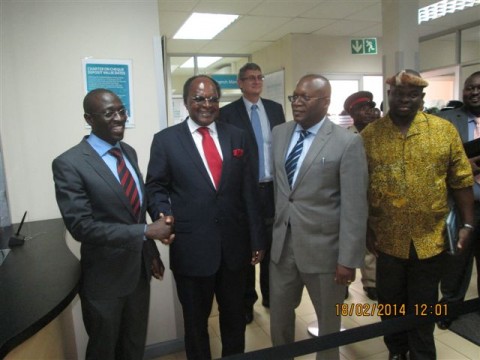 SPPECH FOR
MR RENATUS MUSHINGE
CHAIRMAN OF FNB ZAMBIA
OFFICAL LAUNCH OF FNB CHIPATA BRANCH
TUESDAY, 18TH FEBRUARY 2014, EASTERN PROVINCE
His Royal Highness Paramount Chief Mpezeni,
The Guest of Honour, Governor of the Bank of Zambia, Dr. Michael Gondwe
Senior government officials,
Industry leaders,
Valued clients of FNB Zambia,
Invited guests,
Members of the media,
Ladies and gentlemen,
On behalf of FNB Zambia's Management and staff, and the FNB partners present here this morning, I am pleased to address you all as we officially celebrate our first foothold in Eastern Province,  FNB Chipata Branch.
Your Royal Highness, Chief Mpezeni and Dr. Michael Gondwe, Bank of Zambia Governor, we are particularly grateful that you have been able to join us on this significant occasion, which we trust will also be significant for the Zambian agricultural and trade industries. Most importantly, we hope it will prove to be an important enabler for progress for the companies and individuals that are, and will become valued partners of FNB Zambia.
In this regard, I would like to extend a very special and warm welcome to those of our customers that have been able to join us today. I can assure you that your support and the confidence you have shown to our bank are greatly appreciated.
As we have alluded to many times before, FNB is a bank that cares passionately about serving its customers. Together we aim to unlock opportunities and create sustainable wealth for all our stakeholders through innovation, rewarding and enduring relationships underpinned by service excellence. We believe in taking business and banking to the doorsteps of our customers, thus our meeting here today.
Ladies and gentlemen, the year 2014 marks our fifth year of operation in Zambia. We opened our first branch on 1st April 2009, offering a full range of banking products and services to the retail, corporate and commercial market segments. We have since managed to establish another 11 branches with 4 more branches planned over the next year. We have 60 ATM outlets growing at 15 ATMs per annum and have 117,821 active accounts that are supported by 350 staff members. We have also achieved the minimum capital requirement for commercial banks in Zambia.
In recognition of our innovative efforts, we have received various accolades including; Bank of the Year from the Kitwe Chamber of Commerce, Best Electronic Banking Products in Zambia and the Best Vehicle and Asset Finance in Zambia from the Bankers Association of Zambia, and the Best Customer Service in the Financial Services industry in Zambia from the Zambia Institute of Marketing.
True to our prospects when we identified Zambia as a prime area for doing business when we set out to expand the FirstRand network; we have achieved great success in our time here and are expectant for more.  We thank you for your support and trust that have made us a leading bank we are today.
Ladies and gentlemen, as many of you are aware, Chipata is the business and administration hub serving Eastern Province with agriculture, trade and tourism as leading sectors. It is the Zambian rail head and entry point from Malawi and beyond, facilitating cross-border trade. It is also the access point to South Luangwa National Park and the home of the famous N'cwala ceremony, which will be taking place in a few days.
The opening of the FNB Chipata Branch follows the recent commencement of operations of the Chipata-Mchinji Railway Line linking Zambia to Malawi, Mozambique and the Indian Ocean. This development brings with it an avalanche of imports and foreign exchange into Zambia from trade associates on the East, and sees an increase in the number of local traders in Chipata and the Eastern Province as a whole. This calls for dependable banking facilities, more so for innovative banking solutions.
We believe our assortment of products and services in Consumer Banking will be beneficial to these traders and business houses as they need their finances to be managed properly for prosperity to rise even higher. We will avail them direct access to our services through our Mobile Banking, E-wallet and Bank-in-a Bag, and also provide our Transactional, Investments, Security and Lending portfolio. They will no longer have to travel long distances to access quality banking services as we are bringing banking facilities next to their businesses.
Ladies and gentlemen, Chipata is a growing economy with a good fraction of the population depending on agriculture for their livelihood.  The town has established agriculturalists and even more small scale farmers cultivating the land and investing in various crops for consumption or for sale locally and nationwide.  Many of these farmers are often in desperate need of quality agricultural inputs and implements but cannot afford them and given the right conditions would be very happy to get them on lease.
FNB has recognized this serious need and is offering the farmers of Eastern Province valuable facilities like working capital, seasonal input finance, bridge loans and medium term loans in our Agribusiness division.  We also have trade financing options such as export and import finance, letters of credits, guarantees and many others.
Your Royal Highness Paramount Chief Mpezeni, with the N'cwala traditional ceremony happening in exactly three days, I am happy to inform you that we at FNB understand and appreciate the cultural and economic significance this landmark event brings to the nation. We are well aware of the tourism capacity endowed in this province, and are bringing to the doorsteps of your people, a wealth of banking products aimed at prospering them even further.
Among the key products we are offering to boost the tourism-related industry are the Vehicle and Asset Finance and the Home Loans products.
Our Vehicle and Asset Finance offers loans to individuals and businesses that require financing for purchasing vehicles and other movable assets on credit. These loans are offered at competitive interest rates that includes arranging asset insurance, credit shortfall  and credit life cover to provide additional peace of mind and security to the customer.
With the Home Loans product, regular income earners are given access to housing finance for the purpose of buying, renovating, building and even releasing equity out of their home or commercial assets. This product is offered at an adaptable and accessible price and conditions.
Ladies and gentlemen, in line with FNB's vision to create a better world, we are confident that our entrance into Chipata will empower Zambians and contribute immensely to the economic growth of the country. With our value proposition of people, efficiency, innovative solutions, capacity and our delivery model, we will take every step to unlock opportunities that provide rewarding relationships and accomplish FNB Zambia's continued strategy for development.
As FNB, we will continue to scan the Zambian landscape and continuously ask the question 'How can we help you' the people of this great country. The opening of this Chipata Branch is a testament to our commitment to this question.
Once again I thank you all for taking time off your busy schedules to be with us on the official opening of this Chipata branch.
Thank you