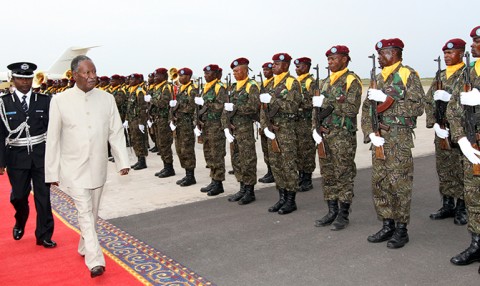 Salutations.
It is my honour and privilege to address this 17th summit of the authority of heads of state and government of the common market for eastern and southern african states. From the onset, i would like to re-affirm the commitment of my government to zambia's membership of our regional body, as we strive towards fulfilling the comesa vision.
I would like to thank the out-going chairperson, his excellency president museveni, and his bureau for their excellent work in guiding the affairs of our organisation during the period of his chairmanship.
To our new chairperson and gracious host, his excellency president kabila and your bureau, please accept my delegation's warm and sincere congratulations. Your excellency, you can be rest assured of my government's support during your tenure as chairperson.
May i also thank and congratulate his excellency mr. Sindiso ngwenya, secretary-general of comesa and the entire secretariat for the excellent preparations made for this summit.
My delegation and i extend special appreciation to president kabila, the government and people of the democratic republic of congo for the warm hospitality accorded to us since our arrival in this great city of kinshasa.
To you my dear brother and colleague, uhuru kenyatta, president of the republic of kenya, allow me to warmly welcome you to this gathering of heads of state and government in the comesa region.
To your excellency, president of the republic of madagascar, i would like to heartily congratulate you for your successful election to the presidency in your country.
It is indeed with a great sense of pride that the collaborative and unwavering efforts of comesa, sadc and international conference on the great lakes region (icglr) have resulted into madagascar being welcomed back into, not only the african union, but also the comesa family.
Your excellencies,
This year's theme of "consolidating intra-comesa trade through micro, small and medium enterprise development" could not have come at a more opportune time than now, as it embraces and reinforces an often overlooked vital aspect of our regional integration agenda.
Micro, small and medium enterprises (msmes) have, for some time, formed the bedrock of economic activities in most of our countries and your excellencies will agree with me that msmes have, therefore, been vehicles of growth in our economies.
Unfortunately, structural and operational rigidities, low production and productivity, inappropriate business development services coupled with inadequate access to inclusive financial services have continued to restrict the growth of msmes in our region.
In spite of these challenges, a number of indigenous business initiatives have sprung up
From this group of entrepreneurs.
We, therefore, need to step up our efforts to empowering this sector in order to contribute towards industrialisation and job creation so as to increase economic growth and thereby accelerate the process of regional integration and hopefully minimise the incidence of poverty.
Your excellencies,
The challenges encountered in the quest for our desired levels of integration, particularly the promotion of intra-comesa trade, are not insurmountable.
Trade facilitation calls for vigorous efforts necessary for addressing supply side constraints which have been hindering the growth of the industrialisation pillar under the tripartite framework. This calls for development of adequate regional infrastructure in energy, transport and communication and if possible construction of one stop border posts.
Similarly, the slow progress made on the industrial pillar in the tripartite negotiations is of great concern to my government. For us in the comesa region, we need to ensure that the industrial pillars are fully developed in order to give chance to industrialisation in the region to achieve market integration.
Your excellencies,
I have noticed with discomfort that although the comesa free trade area was launched a few years back, it has only grown by less than 7 percent. This is largely due to the fact that most of the comesa member states depend on exports of similar primary commodities.
It therefore calls for comesa member states to start developing value adding industries in order for them to increase prospects of ever increasing the intra-comesa trade above 7 percent.
For example, i have been reliably informed that out of the us $ 81 million comesa budget for 2014, only about us $ 500,000 has been budgeted for the comesa industrial pillars.
Your excellencies,
The comesa region is endowed with an abundance of natural resources and human capital. What is required is the fine blend that would see these resources being exploited and processed within the comesa region for the immediate benefit of our people.
It is in this regard that i wish to stress and underline the importance of instituting measures aimed at promoting value addition and beneficiation of our natural resources, particularly the resources within our region.
Your excellencies,
If value addition and diversification can be promoted by the comesa region, our vision of making sustainable investment decisions that will have an impact in the region would not go in vain. That is to say, resource beneficiation must, therefore, result in long-term benefits for our people.
In conclusion, at the national level, zambia has embarked on a number of initiatives to grow the msmes.
My government continues to create linkages at the regional and global levels, in order for the msmes to realise their potential to create sustainable mechanisms for building export capacity, as well as to develop strategies for the formalisation of msmes businesses.
Your excellencies,
The effective participation of msmes in our economies can only be attained in a peaceful and stable environment. The need to guarantee a conflict-free comesa region, where issues of peace and security do not take centre stage cannot be over-emphasised.
As africans, we have, over the years, been able to resolve conflicts using african solutions, even where all hope seemed to have been lost. Therefore, zambia will continue to play a constructive role in finding lasting solutions to issues that comesa countries maybe faced with. To this end, let me reiterate my government's commitment to ensuring the safety and prosperity of our peoples.
Merci beaucoup, asante sana
I thank you.