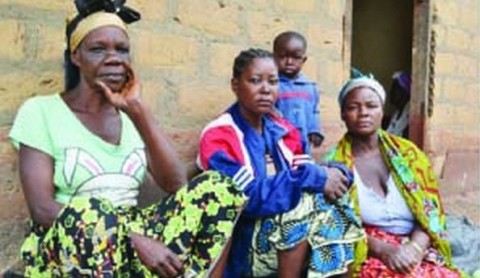 Picture By Moffat Chazingwa
SATURDAY, February 15 2014, started like any other day with the sun rising early morning signifying the beginning of a bright day that never was to a family of Ipusukilo Township in Kitwe which was struck by tragedy that claimed its 12-year-old daughter who was killed by a crocodile.
The death of Mamicho Lubola cast a dark cloud that will forever linger on the lives of her family especially the girl's mother, Beatrice Muleba who cannot bear the anguish of losing a dear daughter in such a manner.
Cruel indeed because the death of Mamicho as things stand may not leave a trace behind to remind family members of their dear daughter as her body had to date never been recovered from the jaws of the giant reptile.
The deceased, of house number 2626, fell prey to the reptile when she went swimming with her two younger sisters in Kafue River, about 100 metres from their home.
Mamicho's younger sister, Mpundu Mecha aged nine, who watched helplessly while the deceased was squeezed in the jaws of the crocodile told the Times that her sister shouted for help when the giant reptile caught her.
Mpundu narrated amid sobs how she and the deceased with another sister left home in the morning around 09:00 hours to go swimming in the river behind their residence.
"When she told me that we go and swim I refused at first but she insisted that we go so that is how we went," Mpundu said.
She and the other sister moved out of the water after swimming for a few minutes and left Mamicho swimming alone.
"We shouted to her to also move out of the water because she was going to be caught by a crocodile but she refused," she said.
As they were still shouting, they saw something that looked like a stick fast approaching the spot where Mamicho was swimming.
Shortly thereafter, the crocodile lunged at Mamicho and gripped her with its jaws.
"We saw her being submerged and brought to the surface three times and by the time people heard our call for help, the crocodile had disappeared," the visibly traumatised Mpundu said.
Mamicho's unexpected demise, painfully as it is, will continue to evoke even more sad memories to the grieving Ms Muleba who feels the cruel hand of death has robbed her of an already grown up daughter.
Ms Muleba, who was gripped by emotion said: "I am really heartbroken looking at the age of my daughter I have lost to a crocodile. Twelve years is not a joke."
She recounted the events on the fateful day of Saturday how she and her late daughter woke up to a bright day with already a planned programme to pursue.
"I had a programme to visit a sick relative in Bulangililo Township and so I woke up from bed quite early and I asked Mamicho to help with some of the house chores like sweeping the yard," she said.
Before leaving for Bulangililo, she left Mamicho with instructions to prepare meals for breakfast and lunch for herself and her younger sister when it was time for such.
"When I was giving these instructions, we were even joking and I remember her telling me that I should not come back because I had not cooked breakfast before leaving.
"After that I started off but I decided to pass through my other sister's place within Ipusukilo to see if we could go together and whilst there, I developed second thoughts which made me to abandon the journey to Bulangililo," Ms Muleba said.
Soon after she made up her mind not to go, she straightaway took off back home but that before she could reach home, she was startled to hear people calling her daughter's name.
"I wondered what good thing my daughter had done only to the sad news that she had been killed by a crocodile," she said.
After being shown the spot where her child was captured by the crocodile, Ms Muleba went to report the matter to Ipusukilo Police Post.
Sad enough, the police refused to go to the scene claiming there was nothing they could do since her daughter had already been killed by the reptile.
Mamicho's death at the hands of a crocodile, bad as it is, has left Ms Muleba reflecting over her decision to settle by the edge of the crocodile infested Kafue River.
"It's recently and in fact barely a month gone when we shifted to this place and following this tragedy that has befallen me, I'm ready to relocate to another place even now," Ms Muleba said.
She said it was not her wish to have shifted to a house on the edge of crocodile infested river but that circumstances including poverty caused that.
The death of Mamicho has indeed left many to wonder why people chose to risk lives including that of their by innocent children by clinging to areas that are on the edge of crocodile infested rivers.
Blame has sometimes been directed at local authorities who have been accused of neglecting the plight of residents by allowing people to access plots in such areas.
But Kitwe Town Clerk Bornwell Luanga said the council should not be blamed for the incident.
Mr Luanga said the Kitwe City Council like other local authorities in the country had been urging residents living in flood prone areas and edges of rivers particularly the crocodile infested Kafue River to exercise caution and relocate to other alternative areas but that people had chosen to ignore this.
"The sad part is when the council gives them alternative plots, they want to keep the old plots and sale the new ones, and this has been the challenge we have been facing as local authorities in relocating people in flood prone areas," he said.