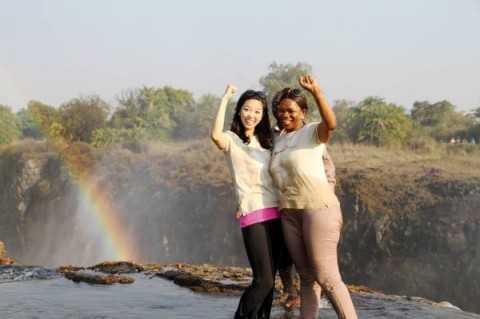 Former Zambia Wildlife Authority (ZAWA) Director General Edwin Matokwani  says Tourism Minister Silvia Masebo breached  of her ministerial etiquette when she canceled  a ZAWA  hunting Tender concession  in 2012..
Mr Matokwani says Ms. Masebo in her capacity as Tourism minister was erroneous and inhuman as she had no authority to dismiss the ZAWA board going by the ZAWA act.
Mr. Matokwani  said this  during the Roydah Kaoma led tribunal's sitting that is investigating Ms Masebo's alleged abuse of office.
The  former ZAWA  Director General said  that   he was shocked to learn through the local media that he and  his other four senior managers were relieved of  duty by a minister contrary to the existing laws of the land.
He contended that Ms Masebo had no role to play in the tender, bidding and evaluation process of selecting the right bidders to be awarded hunting licenses in 19 Zambia's Game Management Areas.
Mr. Matokwani told the court that Ms Masebo did not even know the operations of ZAWA  adding that the Tourism Minister had even no powers to dismiss the officers as they employees of the law enforcement agency and not government.
He also told the tribunal that Ms Masebo had no jurisdiction what so ever to terminate the said tender which was in its final stage of implementation.
He said this was during  Examination in Chief by lawyers representing the petitioners in an ongoing tribunal set to probe the Tourism Minister Silvia Masebo.
Ms Masebo is alleged to have   breached   the law when she single hardly fired  five ZAWA officers  and canceled the Tender document in  2012 on corruption allegations involving the hunting Safari tender that was floated for the public to bid for concession licenses.
And testifying against Ms Masebo in an ongoing tribunal was former ZAWA Manager for   Game Management Melody Machamwala testified against Ms Masebo that as a Civil Servant who have been in the Civil Service for many years, she was offended by Ms Masebo 's remark that  she  was dull and that she did not know her job.
Ms Machamwala told the court that the Tourism Minister was wrong to start asking the names of the successful bidders when the final selection process was not yet exhausted .
She testified that the  community Resource Boards were also represented from the initial process of the bidding process because they are elected by the community themselves in which a Chief of a particular area is a patron to the CRB's.
And  Resource Chairperson  from Eastern Province Daniel Ngoma also told the Roydah Kaoma led tribunal that as a representative of Chief Jumbe, Nsefu and Mkana, the tender process deliberation  he attended at Ibris gardens in the outskirts of Lusaka was free of corruption contrary to  the Tourism Minister's allegations.
Mr. Ngoma , who had difficulties to testify during cross examination by the defense Council told the tribunal that following the ban in Safari hunting in the country, there is increased poaching in game management in Eastern Province.
He told the court that as a community Resource Chairperson, he represented  upper Lupande game management which falls within the jurisdiction of the three mentioned chiefs of Eastern Province.
Others who testified in today's  deliberations in the  ongoing Masebo Tribunal in the Supreme Court  were  former Tourism Development and Marketing Manager Rose Chivumba, ZAWA acting director for conservation James Milanzi and Kakumbi Natural Resource Committee Member Allan Phiri from Mfuwe CRBs.
The tribunal is supposed to close on Friday this week and so far, the Harrington tribunal, as a petitioner, has called Seven (7) witnesses who have testified against Ms Masebo.
Ms Masebo is represented  by Michael Mundashi, Bonaventure Mutale and Robert Simeza, all State Counsels while Mr. Harrington has Gilbert Phiri, Makebi Zulu and Keith Mweemba.

Mr. Phiri indicated on behalf of Mr. Harrington that he will call 12 witnesses out of which five were supposed to be subpoenaed as they are serving in Government.

Ms Justice Kaoma said Mr. Harrington being the petitioner will be the first to bring witnesses and will lay his evidence from Monday up to February 28 and Ms Masebo will start on March 3 and will finish on March 7 this year.

She said that rules of evidence and procedure which apply in civil and criminal matters in the High Court will not apply to the tribunal because Ms Masebo was not under trial but merely investigating her alleged professional misconduct.  She said the tribunal will consider the issue of relevance.